Tom and I had a great time at the Type- A Parent conference in Asheville North Carolina. For 2 of our nights we stayed at the Hampton Inn on Tunnel Road. Which you had to drive up a small hill to get to the hotel which made you feel like you were away from things a bit, which is something I like:) Walking into the hotel they make you feel welcomed by saying "Hello" as soon as you walk in and check out the seating area, where you can sit!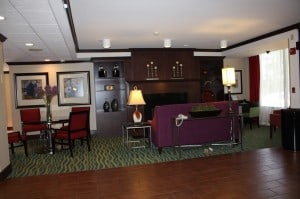 We had a standard room with a King sized bed and well it was beautiful! It was so clean, the room was very welcoming, you walked into the room and the bathroom was on the left hand side, straight ahead was the room with a king sized bed, a chair, a desk, a dresser and on top of the dresser was an HD TV(that made Tom very happy!)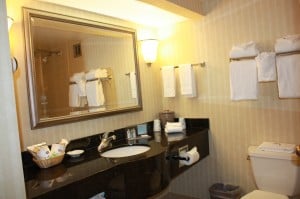 When we look for a hotel to stay at Wireless internet and free breakfast are important to us, the breakfast alone can save us quite a bit of money, since there are 5 of us if we went to any place with out coupons we could easily get a bill of over $30! With is included in the hotel even if the hotel is $5-$10 more a night then one with out breakfast it is totally worth it for us! The breakfast at the Hampton Inn was not just a cold breakfast food breakfast. They had 2 warm options in the mornings, depending on the morning. It could be eggs, sausage, homefries, or scrambled eggs with ham. There is always the option of making a hot waffle, bagels and toast. They had a nice variety of  "cold" breakfast options as well, muffins, danish, bananas, apples, cereal, yogurt and fruit salad were a few of the options. Walking into the breakfast area was welcoming as well, every time I went in there it was clean and no spill or anything on the counter, even near the waffle makers! I can not forget to tell you about the HD TV that they have in the room with all the dining tables and breakfast bar!
I was sad that we did not get a chance to get in the pool or the hot tub that was in the pool area at the hotel but we had a nice view of it from our room and when we went and took a walk around the hotel, near the pool was a fitness room too! I wish we had a chance to try these great amenities out, I think it is great that while traveling a person can still stick to a work out routine if they have one!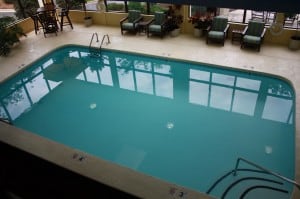 When traveling, if you are a coffee drinker one thing you need is coffee! The Hampton Inn has is fresh 24 hours a day! I went down at all different times of the day to get a cup and not once was it out of coffee! They do awesome keeping them filled!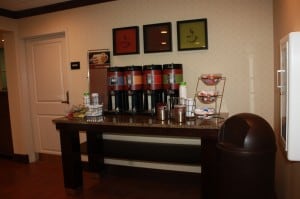 If you are looking for places to go or things to do, they can definitely help! They have a rack full of information about the town and places you can visit. They were all awesome when we asked the staff questions about the area. Tom and I were asking everyone we talked to where the best BBQ places in town were and every was very happy to share with us their favorite places to eat! We also need to go to CVS, so I could use my ECB's before they expired and they hotel staff was great in telling me how to get to a few different ones in case the one I went to first did not have what I needed. Everyone we came in contact with there was super nice, they all said hello if you walked past them. It was so nice to be in a hotel that showed that they cared about their customers and had such a friendly staff.
If you forget something when you are traveling and staying at a Hampton Inn you do not have to worry, they have everything from toothbrushes and toothpaste to razors just in case you need them!
Tom and I both enjoyed our stay at the Hampton Inn, not only did they have the amenities that we always look for in a hotel but they had more then that with the fitness center and the pool! I would definitely return to this hotel to stay, it was welcoming, comfortable, clean and overall a really wonderful stay!
Disclaimer: I was not compensated for this review, I was given 2 nights at the Hampton Inn in Asheville NC to facilitate my review. All opinions are my own.
Join the newsletter
Subscribe to get our latest content by email.
This post may contain affiliate links. Please read my disclosure policy here