There are two words that are slightly scary for a mom of a tween. Bra shopping! That first time those words are mentioned can be quite nerve racking for Mom. When McKenzie brought it up to me, it was slightly unexpected. I mean, I knew it was coming and there was no avoiding it, but I was not emotionally ready for it. I am pretty sure both McKenzie and myself were unprepared for our emotions. Thankfully when we partnered with Hanes it was easy to make it not so scary! Hanes bras for girls are the ones that McKenzie has been wearing and loving!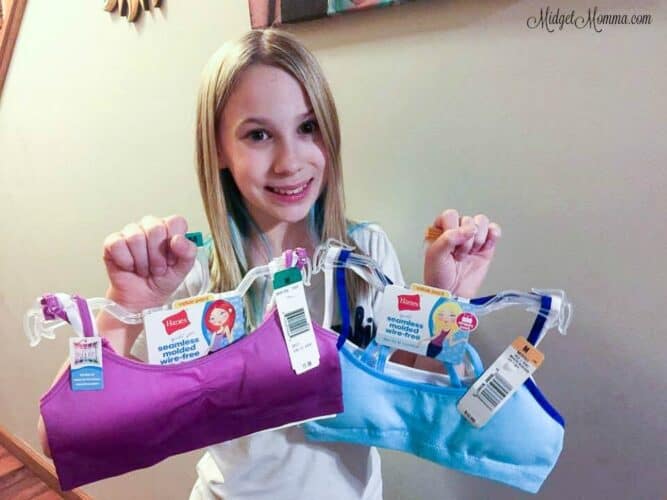 McKenzie was nervous about what having to wear a bra would entail, but also at the same time she was excited for a new step in the direction of growing up. Me, well I was excited that my little girl was growing up, I also wanted to cry because she is growing up.
5 Ways to Make Your Tween's First Bra Fun!
Go shopping together! Make it a fun day where you can go and have girl time. Leave the other kids at home and just enjoy each other and have some fun. A great place to head to when going bra shopping for the first time is Target. They have a great selection of Hanes Bras that are perfect for girls taking this new life step.
Let your daughter pick them out. As hard as it is  to let go of the control, let her take over and pick the ones she wants to try. Also let her pick out the colors and patterns. It may not be one that you would choose, but if she likes them she will feel more comfortable as she gets used to wearing them!
Get a variety of bras. We all know that not all bras are made the same. Some styles are comfy for some people and others not so much. Then when having them try them on do a fashion show, where they can model their new bras. (Of course keep this between Mom and daughter so they are not uncomfortable!)
Pick out a few new tops to wear with them. Sometimes shirts they had won't fit the same as they did before once a bra is under them. Plus we all know that it is always fun to get some new clothing. 😉
Relax! Both of you are entering new territory, both of you are filled with new emotions. Taking a deep breath and relaxing will make it more enjoyable for both, however I will also tell you that it won't stop the mom tears from coming since your little girl is growing up!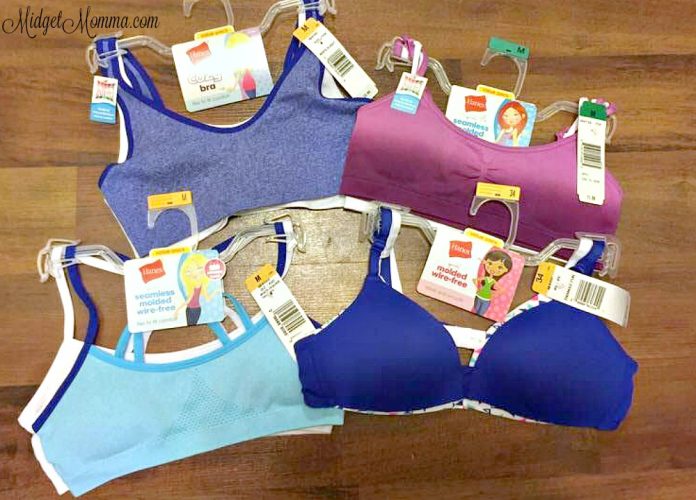 Hanes has the perfect selection of bras for girls getting their first bra! There are many different colors and patterns to pick from along with styles too! Target has all of your Hanes bra needs as you and your daughter start the adventure together!
Hanes Bras for Girls
These Bralettes from Hanes® come in a two pack. They have full coverage and comfort that is perfect for the first bra! No underwires and adjustable straps to make the perfect fit along with being easy to pull over and put on!
These bras are great for the girls who are not comfortable having padding. They removable foam cups that are really simple to remove and put back in as wanted. The material is totally seamless so it is great for under tighter shirts where the material is thinner and you would be able to see it. Straps are adjustable to make them easy to fit. Easy pull over, which means no fighting with clips!
This bra comes in a two pack and has fun straps! They are perfect for wearing with any top and work well for racer back tops too!! They come in neutral and fun colors! Easy pull over which means they are not having to fight with any clips!
These are the next step up after your girls fast bra! They are pull over, which is awesome because there is no need to worry about clips! They have adjustable, convertible straps for custom fit and multiple ways to wear which means they can be worn with any style shirt!
Enter to win: 
Prize:
$50 Target Gift Card and a girls bra wardrobe (3 Hanes Girls Bras).
How to Enter:
Leave a separate comment for each entry on this blog post.
Mandatory Entries:
Sign up for my daily newsletter here  so you never miss anything
Leave a comment telling me your favorite thing about your kiddo growing up that you are enjoying.
Extra Entries:
Sign up for Hanes email promotions here (Scroll down to bottom of page and enter your e-mail address) – 1 entry
Follow me on Pinterest – 1 entry
Follow me on YouTube – 1 entry
Follow Me on Instagram – 1 entry
Follow me on Twitter– 1 entry
Tweet the following- I want to win @Hanes Girls Bras Prize Pack w/ $50 Target Gift Card! from @MidgetMomma1200 https://www.midgetmomma.com/?p=175504   – 5 times daily. One hour between each tweet.
"Like" this post on Facebook – 1 entry
Giveaway Rules:
No purchase necessary to enter, leave a separate comment for each entry method. This giveaway is not associated with any of the entry methods. This giveaway will run till 11:59 PM EST August 20, 2017. The winner(s) will be picked using And the winner is (a random winner picker) and will be announced in a new blog post. Giveaway is open to US residents who are 18 years or older. By entering this giveaway you are giving consent to be added to the MidgetMomma daily newsletter. Winner will be contacted and have 48 hours to reply to contact e-mail or the prize is forfeited. Open to US mailing addresses only. 
Disclaimer: This post is sponsored by Hanes. All opinions are 100% my own!
Join the newsletter
Subscribe to get our latest content by email.
This post may contain affiliate links. Please read my disclosure policy here