8 years ago today my son Logan was born. I still can not believe its been 8 years and that he is growing so quickly. He is growing in to such a polite, handsome, loving, kind, and creative person and watching him grow and learn every day is the best thing about being his mom. I feel so blessed that I get to call him my son!
This week has been a crazy one but the last 3 days have been filled with one on one time that I don't get with Logan often and after these last 3 days were amazing while being crazy. On Wednesday Logan and I headed to New York City to attend the screening of Strong Magic (review coming soon but Logan says everyone needs to go see it), then we came home for the night and on Thursday night we headed back to New York City to spend the night because we had a Strange Magic Movie Press event (look for a post coming soon about that as well!)
We got into the city and checked into our hotel, which we booked using the Hotel Tonight app which lets you book rooms last minute and get deals on them! Totally easy to use, just download the FREE app, book your room and check in at your hotel!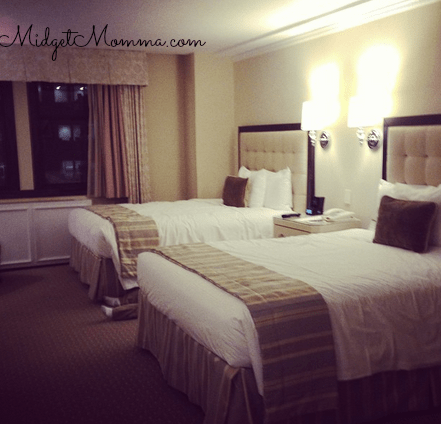 After checking into the Warwick (the hotel we stayed at), we got the awesome news that because the lady at the desk heard Logan say it was his Birthday they upgraded our room to one 2 times the size and with an AWESOME view of the city.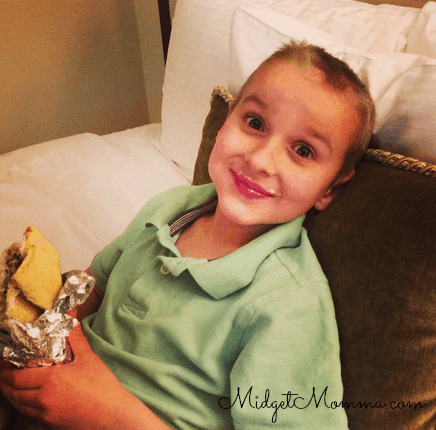 We headed out to the Halal cart to grab dinner, seriously if you are ever in NYC you need to get a Lamb gyro from the Halal guys cart on 55th street and 5th avenue right next to the Hilton. It is my favorite place to eat in NYC. We came back to our room ate our sandwiches, and Logan also had a massive pretzel and then we headed off to Times Square on Logan's request.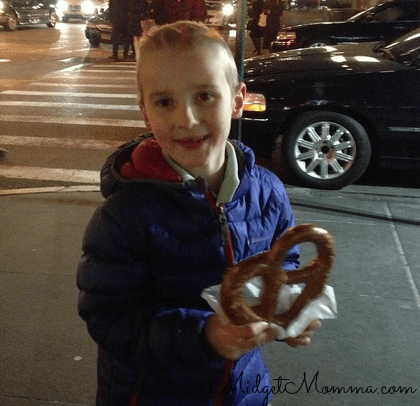 He wanted to see what Times Square looked like at night with all the lights and the ads so we took the walk on over. Not bad of a walk, took us about 10 minutes and it was so much fun walking and talking with him.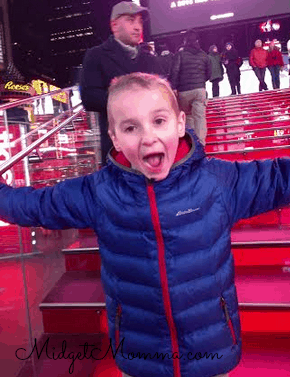 We got to Times Square and climbed the giant stairs, of course we took the all important selfie 😉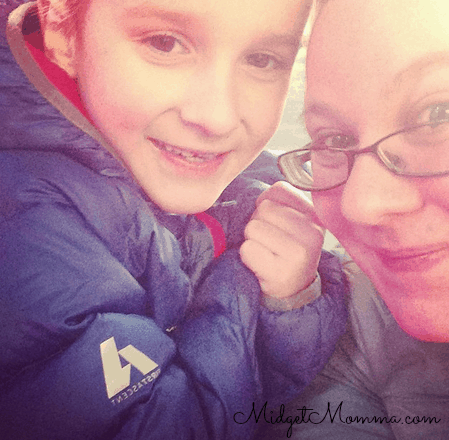 Then we spotted that the Disney Store was open (and are open all night) and headed in to check it out. Its HUGE! 2 Floors, TONS of Disney magic and Logan found the clearance rack where he found a Nerf Star Wars gun and Darth Vader hat! The one lady who worked there heard Logan say he was so excited for his birthday, asked him when it was and he said Tomorrow and she came back a few minutes later with a whole bunch of special Star Wars goodies for him!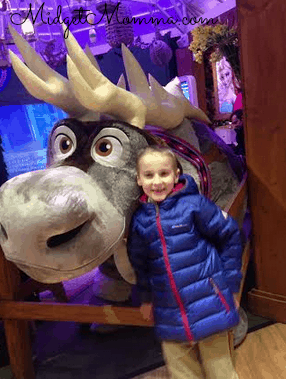 After the Disney Store it was time to go back to the hotel, as it was after 11pm but then we walked past the HUGE M&M store and had to stop in! We had some fun taking photos in the photo booth together and then headed back to the hotel.
It didn't take him long to fall asleep, he was worn out but as I talked to him before he went to sleep his smile was HUGE, and he was still smiling when he fell asleep.
This morning (1/16) we woke up and headed to Starbucks for some quick and easy breakfast and some much needed coffee for me, went back to the hotel to get ready for the day (yes we totally walked the streets of NYC in our PJs this morning the 30 second walk to Starbucks 😉 ). Then we headed out for the day, our first stop was FAO Schwartz (the toy store), Amazed with how big it was and that he could play with toys in the store, and the HUGE statues built out of Lego just walking around that store is a TON of fun. In true MidgetMomma fashion Logan found more clearance, he found the Halo sets that are normally $3-$4 each on sale for .98 a piece!! Score! We also have to have some photo opps with the giant Characters built out of Legos.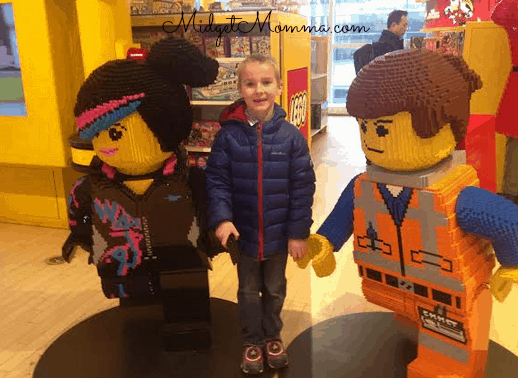 Then it was off to our Press event for the new Strange Magic movie. I can't spill all the beans yet but I can say that Logan got a front row seat, directly in front of where George Lucas sat, asked him the last question of the meeting and got his picture taken with him. Logan's exact words were "This was the BEST birthday gift ever".
After our event we headed home, driving in NYC at 5pm seriously is the worst thing ever, I don't recommend it. But for us it was time to come home as Tom, McKenzie and Logan had cake and gifts for Logan waiting for him. I would be lying if I didn't say I was sad for our time in NYC to end. I really enjoyed the one on one time with him, the conversations, the laughs, the smiles and it is not something we can do very often (but I totally wish we could!)
I feel so blessed that I was able to take him to work with me on a press trip and give him a day he will remember forever and that we had this special trip together. It is definitely a weekend neither one of us will forget!