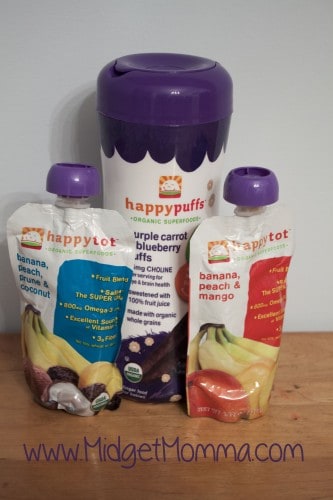 My toddler just cant get enough from the happy family company. I started off with the happybaby products. Being the crazy mom I am I didn't want her to eat any junk. I only wanted her to serve her organic food which can be hard to find in a baby food. I love that the food comes in pouches. It makes feeding time so quick and easy.  My daughter was able to start feeding herself because how easy it was just to squeeze it out.
Now happytots are our go to lunch for her when we go out. She is just so picky that even when I get her the foods she loves she still doesn't want to eat them when we are  out. I have no clue why but I always keep a happytot food pouch in my purse. I know that no matter what she will eat a pouch no mater where we are.
No her very favorite thing is the happybaby puffs. They are sweetened with 100% fruit and vegetable juice.  The puffs have been a great food that has grown with her. A lot of other foods she will not eat because they are to "baby" for her but not these. We will be shopping in target and she will freak out when we are near the baby food because she knows they have the happypuffs! I have to watch her because if I don't she will eat a whole container right there in the store! The happypuffs come in six different flavors and our favorite is the apple….. Yes you heard me right our favorite. I always try what I am going to feed my daughter and the apple puffs are yummy! I have to stop myself from eating them up on her.
You can purchase these products online at Amazon and in local retail stores
Disclaimer: I received products to facilitate my review no compensation was received and all products are 100% my own.