I don't know if you have all seen the craziness about the new Hasbro cake bake shop Playdoh set, you know the one where people are saying the icing applier looks like a penis?!? I have 3 kids 2 girls and a boy and they have been playing with the toy for about 3 weeks now and not one time did any of them mention anything about it reminding them of a penis. I am sure any of you with kids know that kids will speak what they are thinking. At least in my house if they think something they are going to say it,  Happens ALL.THE.TIME! Someone is not happy we know it 😉 I am fighting the constant battle of keeping my kids little and not being exposed to things that are not age appropriate all the time, but I am not seeing how a child would see this toy as a penis unless a parent said a comment about it.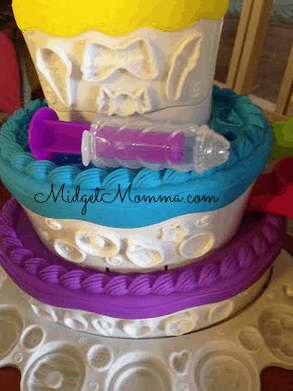 Why do we as adults have to put an idea like this into a toy. It is a toy, kids are not going to look at it and be like "oh it looks like a penis and oh it has stuff that comes out of the hole at the top". It is a toy, a kid sees it as a plastic piece that makes them able to put playdoh icing on the playdoh cake that they made. Heck as an adult I guess we could say it looks like a tampon too but what 4 year old is even going to a – know what a tampon is or b- put the two together and say that it looks like a tampon????
Can we please leave kids toys as kids toys, and stop saying they look like a penis or any other part that they don't mean to look like, our kids have innocent minds and don't look at the toy like that, it is adults who are looking at things and thinking things but a kid sees it for exactly what it is, a part of their cake playdoh set that they use to decorate with.