I know I have said it before that Stride Rite is my favorite brand of shoe for my kids. I normally go to the outlet stores to buy my kids shoes but these are AWESOME Prices on Stride Rite sneakers!!! The reason my kids wear Stride Rite shoes is because of the quality, they last, I can wash them and they have flexible souls. I don't put shoes that don't bend on my kids because it is bad for their feet. My kid's love them because they have awesome designs and I can always find a pair of Stride Rite sneakers that they like when we go to the store(even if it takes a few tries because they want the ones that are full price)
Right now HauteLook has them and they are on sale for over 50% off!!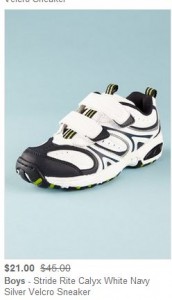 My son has these and I got them at the retail store with a coupon for $30(reg price is $45) so scoring them for $21 is AWESOME!!!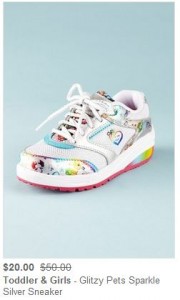 And these are the ones that my daughter wanted when we went shopping but because in the store they were still at full price I told her no, but now you can score then for $20 (reg price $50)
Haute Look also have sandals so if you are looking to add to your kid's wardrobe for next summer you can score some great deals on the sandals and put them away for next year!!