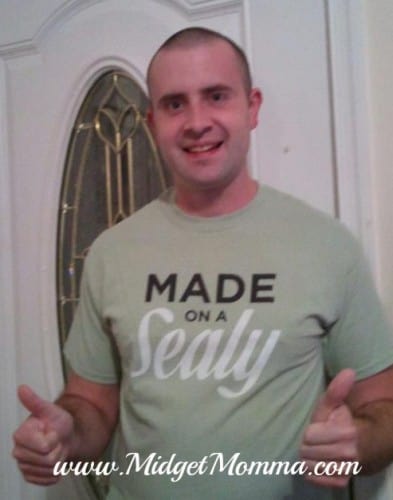 Well we don't know that for sure if hubby was or was not made on a Sealy (and really that is a question that I am happy to have go unanswered) but Sealy has these really fun shirts that you can get that have sayings like "Made on a Sealy" and "Whatever you do in bed Sealy Supports it" that you can find in their Sealy Schwag Shop. These shirts had my husband cracking up laughing as he was picking his out. He was sitting there looking and then all of a sudden her would burst out laughing.
The shirt itself fits true to size, and did not shrink in the washer or dryer:) Hubby says it is super comfortable and he loves walking through the store and getting the weird looks from other people about it. I don't know if he thinks I don't notice or not but you can see it in his face that he finds it humorous when we are in the store and he is wearing it.
If you have someone with my husbands sense of humor then I am sure they would love this shirt as much as my husband loves his!
Disclaimer: I was provided promotional product to facilitate my review. No compensation was received and all opinons are 100% my own.
This post may contain affiliate links. Please read my disclosure policy here