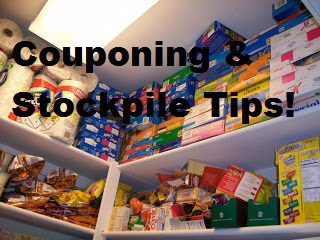 Coupon Basics:
Coupons are a great way to save a TON of money on your Grocery Bill, and many other things that you purchase day to day. While in the beginning it may seem like a lot to take in, after you get the hang of it, it becomes very easy. Start out slow and do not overwhelm yourself. If you take on to much and chase every deal that there is you will burn yourself out and be exhausted. Don't beat yourself up if you miss a deal, there is always another one for you to get!
Where To Find Coupons:
-The Sunday Newspaper
-Facebook- Many companies are turning to Facebook to promote their products and are offering coupons. "Like" the companies that you normally use and keep an eye out for when they release coupons.
-Tearpads- Many places like gas stations, convenient stores(this includes the competes), grocery stores have tear pad coupons on their cooler doors or in other places around the stores.
-Contacting Companies- If you have a product that you really enjoy, e-mail the company and tell them. Many times the companies will send you a few money saving coupons for taking the time to tell them how you feel about their products.
-There are websites that you can print coupons from:
–www.Coupons.com
–www.RedPlum.com
–www.SmartSource.com
–www.EatbetterAmerica.com
–www.bettycrocker.com
–Swagbucks (along with printing coupons you earn swagbucks for printing and using them!)
Coupon Lingo and Abbreviations: Common words and abbreviations used when talking about couponing
Q-coupon
BOGO/B2G1- Buy one get one free/Buy 2 get 1 free
CAT/Catalina- Coupons that are printed from the coupon machine at the register in stores
Overage- The amount of a coupon that exceeds the price of the product. The amount can be used towards other items.(This being allowed varies from store to store, some stores will adjust the coupon down so the item is still free but you do not get overage)
Extra Care Bucks(ECBs)- CVS dollars that you earn from buying products that give ECBs back that can only be used at CVS.
Register Rewards(RR)-Walgreens Dollars that you can earn from buying products that give RR back that can be used at Walgreens(the commissary does accept these as well)
Up+ Rewards- Rite Aid dollars that you can earn from buying products that give them back that are used at Rite Aid
Single Check Rebate(SCR)- Rite Aid's Rebate program
Video Value Coupons- Coupons that you get from watching short Videos here that can be used at Rite Aid
Rebates-Another great way to save money. Buying products the qualify for rebates and then mailing them in to get money back.
MM-Money Maker- after using a coupon you spend less then you get back
-example- Buy a shampoo for $5 at CVS, that is advertising get $5 ecb back. You have a $2 off coupon. You buy the shampoo and use your coupon and pay $3 and then you get $5 ECB back. This would be a $2 Money Maker. You can find deals like this at many stores, Rite Aid, Walgreens and CVS are a few.
FAR-Free after rebate
TMF-Try me Free rebates
Peelies- Coupons that are like stickers that are attached to products
Tearpad- Coupons and/or rebate form that are found on pads in stores, found in grocery departments and in places like convenient stores on their cooler cases.
OOP-out of pocket-how much your out of pocket cost will be
GC-Gift card
AC- After coupon
BC- Before coupon
Blinkies- the coupons that are spit out of the little machines on shelves
Red Plum(RP)-type of insert from news paper
Smart Source(SS)-type of insert from news paper
General Mills(GM)-type of insert from newpaper
Proctor and Gamble(P&G)- type of insert from newspaper
Basic Rules to couponing:
-Coupons can only be used for the items that the coupon specifies
-You can only use 1 manufacturer coupon per item. (Example you buy 2 shampoos you can only use 2 coupons, 1 for each product that you are buying)
-Stores like CVS, Rite Aid, Walgreens, Target and many grocery stores have store coupons, these can be combined with manufacture coupons to maximize your savings.
Tips for couponing:
-Look for the smallest size, most of the time the smaller size will be the cheapest and possible free.
-Coupons that say ANY size can be used on trial size as long as the coupon does not exclude them. This makes many trial size items FREE!
-Do not be brand loyal. Coupons come out for all brands of products, but being brand loyal will not always net you what is free or cheap with a coupon
-Be organized- Find what works for you. There are many different ways to organize coupons. Some people clip them all and sort them (alphabetically, by type by brand ect.) while others organize them by date of insert and keep the full insert to be able to find what insert the coupon came from. No one way is right it is whatever works best for you.
-You may sometimes buy things you do not need in order to save money on what you do need. This is a time where overage comes into play. You may not NEED razors but say the razors are $1 and you have a $2 off coupon, you can use that extra $1 towards other items you are purchasing. (Just remember not every store allows overage and overage should always be looked at as a gift and not as a right or expected)
-Buy multiple papers. When you find items that are cheap or free after coupons you will always want to get more then one. So buying more then one paper will give you the ability to stock up and get more items that you will use for free/cheap
-Save your coupons for a sale. Just because the coupon comes out does not mean it is a good deal. Wait for a sale to come around and then use the coupon to get the best savings. Manufactures want you to use the coupon right away, but holding on to it and waiting until a good deal comes around is how to save your self the most money.
-Do not buy things just because you have a coupon. The exception to this is if the deal is a money maker, buying things to make you money and to offset the cost of something else you would use helps with saving money and stockpiling
Stockpile-Stock up on items when they are free or really really cheap. My favorite things to stockpile are razors, toothpaste, shampoo, soap, diapers anything that has a long expiration. Get as many items as you can free or at the dirt cheap price and you won't have to pay full price later.
Stockpiling:
-What is stockpiling? Stockpiling is getting multiple items when they are free and/or cheap and then not having to buy them at full price. This is important when it comes to couponing. It gives you the ability to pick and choose what you need to buy. As a couponer the stockpile is key and is something that you should be very proud of.
-When building your stockpile buy things that are cheap and free that your family will use. Stocking up on items that will be of no use to your family is wasting your time and money. The exception to this is if the deal is a money maker, buying things to make you money and to offset the cost of something else you would use helps with saving money and stockpiling.
-Get sturdy shelving units. Spend the extra few bucks on shelving units that will last. You do not want to waste money and have them not able to hold your stockpile or not last.
–