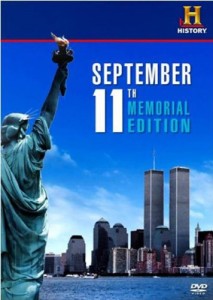 New York City, September 11, 2001.  The morning everything changed.  Ten years after the World Trade Center attacks, HISTORY presents the SEPTEMBER 11TH MEMORIAL COLLECTOR'S EDITION, a collection of specials that document a day none of us will ever forget.  Regularly priced at $21.98, you can bring home this Emmy-Award winning documentary for just $9.99.
The collection includes:
The Emmy-Award winning 102 Minutes That Changed America, an intensely personal perspective of the tragedy as it was experienced by people around New York.
Hotel Ground Zero, the incredible tale of the 940 tourists, visitors and staff in the Marriott WTC Hotel, located beneath and between the Twin Towers.
The Miracle of Stairway B, the story of 12 firefighters, three office workers, and a Port Authority police officer who survived the collapse of the North Tower.
The Day the Towers Fell, a riveting special that reveals the never-before-told stories of eyewitnesses, including amateur and professional photographers, caught in the horror of the World Trade Center tragedy.
BONUS FEATURES: I-Witness to 9/11 a remarkable short film companion piece to 102 Minutes That Changed America
Bring home your copy of the story that changed America for just $9.99.  Buy one now!