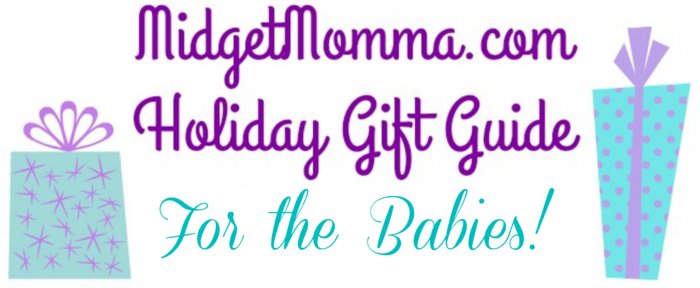 Holiday Gift ideas for the babies!


Magic Bullet Baby Bullet

The Original Baby Bullet has all the power and convenience of the Original Magic Bullet. But now, you don't have to make baby's food where you make your margaritas and salsa! With the convenient and powerful baby blend blade, you can make and store fresh, healthy, delicious foods that are perfect for EVERY stage of development.

The Baby Bullet comes with the refrigerator-friendly Date-Dial Storage Cups that allow you to keep track of your freshly made baby food. With the Tip Proof Tray, each Date-Dial cup is easily stored and organized so you always have access to freshly made baby food. You can also make a surplus of food which can be stored in the flexible Easy Pop Batch Tray.


20-Piece Set Includes:
1 High-torque Power Base
1 Baby Blend Blade
1 Milling Blade
3-Piece Batchbowl
1 Short Cup
1 Spatula
1 Batch Tray with 1 Lid
6 Date-dial Storage Cups
1 Stay-fresh Resealable Lid
1 Storage Tray
User Manual & Cookbook
Pocket Nutritionist




Magic Bullet Baby Bullet Turbo Steamer

With help from the Magic Bullet Baby Bullet Turbo Steamer you can make quick, healthy meals for your little one. This convenient appliance works with your Baby Bullet system to cook and defrost baby food up to five times faster than traditional steaming or boiling. When all is said and done It takes just 7-13 minutes before food is done and baby is happy. This baby food steamer is simple to use and an excellent help for those with limited time to spend in the kitchen. The removable bowl and lid even make for a quick and simple cleanup when you are done. The Magic Bullet Baby Bullet steamer is an excellent gift for new or expecting mothers.




Feltman Brothers GIRLS LONG SLEEVES SMOCKED HOLIDAY DRESS

Holidays are always on our minds,especially when you see this dress on your little girl. This smocked holiday dress has a fluted french lace around the peter pan collar, with red and green rose bullions hand embroidered on it for just that extra special touch. The bodice has beautiful smocking with clusters of hand embroidered red and green bullions to give it that Holiday spirit. Greetings,cheer,good tidings to all from those of us dressed in Feltman Brothers, our best!




Kleynimals 3-Piece Baby Flatware Set – Safari Friends

The 3 piece baby flatware set includes 1 feeder spoon, 1 baby spoon and 1 baby fork featuring our Kleynimals safari friends – Eli the Elephant, Gus the Giraffe and Leo the Lion.

Like Kleynimals toy keys, our flatware is proudly Made in the USA of 100% food grade stainless steel. Kleynimals flatware is packaged in our signature muslin bag.

Specifications:
Made in the USA
All utensils are made of 18/10 stainless steel
Baby Spoon length: 5 inches
Baby Fork length: 5 inches
Baby Feeder Spoon length: 5.5 inches




VTech VM346 Safe & Sound Expandable Digital Video Baby Monitor

See and hear your little one from any room with the VTech Safe Sound Bear VM346 Expandable Digital Video Baby Monitor with Automatic Night Vision. The camera is shaped as a teddy bear, an adorable way to add peace of mind to the nursery. Full-color video on a large 4.3-inch LCD screen lets you see every smile and sigh, while a two-way, talk-back intercom lets you soothe your child without entering the room. The camera automatically detects low light and enables night vision, so you'll be able to see your baby even after bedtime. The VTech Safe Sound Bear VM346 Expandable Digital Video Baby Monitor with Automatic Night Vision is equipped with one camera, but you can add up to three more to keep an eye on more than one child or room at a time. Thanks to digital transmission, you can rest assured your videos are private and secure.




JACK & LILY CARY (SUEDE) | UNISEX | MY MOCS BOOTS

These on-trend fringe boots in tan genuine suede will keep little tootsies warm and toasty all winter long! Hand-crafted with breathable, genuine leather and premium, non-toxic materials, My Mocs Boots are just as snuggly cozy as their moccasin-style, and Super flex rubber sole, suggests. 3 millimeters of ankle and sole cushioning mean soft protection while Velcro closes keep My Mocs Boots on wiggly feet. Perfect for indoor or outdoor. Packaged in our award winning, premium gift box.




JACK & LILY HARLEY (SUEDE) | UNISEX | MY MOCS

These grey genuine suede Fringe My Mocs are not only cute and comfy-cozy. Their ultra-flexible rubber sole provides big protection for little feet – indoors or out! Hand-crafted with breathable, genuine leather and premium, non-toxic materials, My Mocs are just as snuggly cozy as their moccasin-style, and Super flex rubber sole, suggests. 3 millimeters of ankle and sole cushioning mean comfort, as Velcro closes keep My Mocs on little feet, leaving lots of wiggle room for tiny toes. Perfect for indoor or outdoor. Packaged in our award winning, premium gift box.




Little Me Holly Holiday Tunic Set

A festive headband completes this sweet tunic set for her, with baby girls' slip-on leggings and pin-dot holiday top.

100% Cotton
Machine wash cold, tumble dry low
Imported




Finn + Emma coverall dreamcatcher

Looking for something cute and easy to put on your baby? This buttery-soft organic cotton coverall is just what you need! Featuring our adorable dreamcatcher print, this outfit is easy on the eyes and simple to take care of. Furthermore, it's designed for quick access to baby when you need it most using all-natural, easy-snap fasteners with coconut inserts. It's a great outfit for baby to wear when you're out and about with friends and family or to just kick around the house.

100% G.O.T.S. certified organic cotton
eco-friendly inks and dyes
lead and nickel free snaps with coconut insert
made in India




Pink Minky Stroller Blanket with Pink Petals Border

Oliver B's lush Minky Stroller Blankets are the perfect accessory for any outing. Machine washable and dryer safe. Pair with matching RELISH Collection accessories. Fits standard size crib mattress. Measures 40" x 30"




My Baby's Heartbeat Bear

A recordable pregnancy keepsake, this pink bear keeps the sound of your baby's ultrasound heartbeat safe and sound. 15 inches, fleece type fabric and poly fiber fill.




Woombie Bamboo Flower Hats

Mod'Hats are not only beautiful, but soft &luxurious as well. Match your sleepwear or swaddle with one of our gorgeous designs!




Woombie Fringed Swaddle Set

Mod Fringed Swaddle + Hat Set

Super fun & fancy! A modern yet vintage look!
Made of Rayon from Bamboo
Heathered look
Size: 5-13 lbs/0-3 M
3 colors




pediped ORIGINALS® JAKE BERRY

About Originals® Jake Berry
Sizes newborn-24 months
Leather and suede upper
Breathable leather lining
All leather soft-sole with slip resistant diamond tread
Sneaker style with Velcro closure
Approved by the American Podiatric Medical Association for promoting healthy foot development

Perfect for beginning walkers, all pediped® Originals feature leather soles for ultimate flexibility and lasting quality. Our updated Originals® soles feature a diamond leather tread that is more slip resistant yet still crafted completely of high-quality, non-toxic leather that allows little toes to move, grip, and feel the floor.




MAM Winter Collection Pacifiers

MAM Winter Holiday 6 plus months orthodontic pacifiers have been developed in cooperation with the International Children Medical Research Society and are recommended most by dentists and Orthodontists. MAM's patented silk teat is silicone with a difference: it's silky soft. No other silicone feels softer. For your baby's next step, MAM designers have worked closely together with orthodontists to create this range of MAM pacifiers. A curved shield with air holes and MAM's unique inside surface for maximum comfort. To add a lovely detailed touch, the colors and motifs are adapted to reflect the baby's age. Eye catching designs monster motifs. MAM pacifiers are always in the right position. For baby's 6 plus months. Includes 2 BPA free pacifiers. Storage case is reusable and can be used in the microwave to sterilize pacifiers.




Baby Swim Diapers by Beau & Belle Littles

Eco-Friendly Reusable Baby Swim Diapers that are Washable & Adjustable

★ Are you tired of wasting money on disposable swim diapers?
★ Are you looking for an eco-friendly reuseable swim diaper option that lasts longer than 3 months?

Introducing Nageuret™ Reusable Baby Swim Diapers by Beau & Belle Littles™:
★ Waterproof, adjustable, reusable swim diapers that fit any infant between in diaper sizes N through 5 (6-36 lbs; waist 7.75in.-19.5in, legs 5.5in-10in.)
★ Designed to keep solids in the swim diaper and keep others safe from accidents
★ One-size swim diaper with snaps that adjust around the waist and tummy offering three different sizes of width and length of the reusable swim diaper.
★ Waterproof outer fabric made from 100% PUL polyester and features cute unisex patterns so your little Beau or Belle can swim in style.
★ Internal Polyester mesh designed for easy washing and baby comfort.
★ Whether you're going on vacation at the beach with your toddler, or going to swim lessons with your new baby, these are the perfect choice for your little swimmers




Boudreaux's Butt Paste

For the mom who prefers her baby's butt au naturel, your baby can stay comfortable and natural with the help of All Natural Boudreaux's Butt Paste. It treats and helps protect against rash with natural ingredients like soothing aloe and a natural scent, so your baby can kick rash naturally.




Baja Baby Hair Conditioner Cream


THE BEST BABY CONDITIONER - DETANGLER WITH NATURAL/ORGANIC INGREDIENTS: Glacial Water, Hemp Oil, Organic Coconut Oil and Pro-Vitamin B5 to name a few. Our vitamin-enriched formula is the perfect way to give your baby the best start in life! An excellent compliment to our Baja Baby Shampoo and Body Wash
SUITABLE FOR BABIES & KIDS OF ALL AGES: Give your child the experience of no more tangles after bath time. Baja Baby Conditioning Cream will promote shiny, soft, smooth hair. Mommies - we think you will love it too!
LIGHT REFRESHING CITRUS SCENT: You and your child will love the scent of our organic conditioning cream! No more harsh chemical or strong perfume smells! "I LOVE this product! Smells so fresh and citrus-y." All of these wonderful ingredients come together to make bath time a great experience for all. A little goes a long way!




Baja Baby Nourishing Body Lotion

Made with organic ingredients
Spa quality body lotion
Paraben Free
Phosphate Free
Sulphate Free




Baja Baby Shampoo and Body Wash

ONLY THE BEST NATURAL INGREDIENTS FOR OUR ORGANIC BABY SHAMPOO: Glacial Water, Pro-Vitamin B5 and Hemp Seed Oil to name a few. Our vitamin-enriched formula is the perfect way to give your baby the best start in life!
SUITABLE FOR BABIES WITH SENSITIVE SKIN, CRADLE CAP AND ECZEMA: "My daughter who by nature has very sensitive skin (3 years old) had a bad rash last week around her hairline and scalp. I washed her scalp and hairline with this product and hours later I could literally see that the irritation had subsided!!!!!




Samsung BrightVIEW HD Baby Video Monitoring System

Our Samsung BrightVIEW Baby Monitor system uses the latest technology to provide parents with a peace of mind. The high quality 5.0 inch Touch Screen on the monitor allows you to observe your little one so you always know what he or she is doing when you're not there.




Bears for Humanity Organic Pink Sherpa Bear

Our huggable, floppy and soft 16" Pink Teddy Bear from our Sherpa Bears Collection is hand sewn in the USA, hypoallergenic, and made from 100% GOTS Certified organic cotton – there are no harmful plastics, chemicals, or dyes. We also offer smaller 12" Organic Pink Teddy Bear from our Baby Sherpas Collection. For every bear purchased, we donate a bear to a child in need – it's a gift to feel good about.

Length: 16"
Width: 10"
Hand Sewn & Stuffed in the USA
100% GOTS Certified Cotton




Tiny Love Gymini 1 2 3 Here I Grow Playmat

A 3-in-1 modular activity mat that develops with the baby. The Gymini 1 2 3 Here I Grow supports all 3 major developmental stages: laying, sitting and standing position.




IFME Baby VENICE Shoes

The IFME insole trains your child's foot while they wear the shoes!
IFME's advanced insole provides the support necessary to form children's healthy arches.
IFME has always focused on proper foot development for children. As children play, walk, and exercise, it is essential that they wear shoes that promote healthy foot growth and natural movement of their toes. IFME's original advanced insole is designed to allow the toes to splay on contact with the ground, as if barefoot.
The toe indentations provide a secure foundation and prevent the foot from twisting, both of which reinforce healthy arch development.




VTech Care for Me Learning Carrier™

· The Care for Me Learning Carrier is an interactive pet carrier that lets little ones take their plush pet anywhere!
· Put the plush puppy inside or take her out of the carrier and hear playful phrases when opening and closing the door.
· The activity panel on the side of the carrier is packed with learning fun – press the light-up buttons to learn about colors, shapes, pet care and more and slide the letter beads introduce letters and music.
· Sliding the window and spinning the roller add to the fun and encourage motor skills.
· The carrier also includes four pet care accessories so toddlers can groom, feed and play with the cuddly puppy. Ages 9-36 months.




VTech Pull and Learn Alligator


· The Pull & Learn Alligator is the perfect pal for teaching kids about letters and phonics, with 26 letter buttons plus a music and help button.
· In the five play modes, little learners can explore phonics, animals, people and objects, hear silly sentences or listen to music.
· Push or pull the interactive gator around to watch his head move, mouth open, tail light-up and play songs and melodies.
· A silly sentence game lets little ones learn about alliteration through a variety of fun phrases and a quiz game reinforces learning.
·Ages 18 months - 4 years




VTech Sort and Discover Drum


· Drum and learn with the Sort & Discover Drum. As your little one drops the shape blocks into the magic shape sorter, the drum will recognize the blocks and introduce animals, shapes and numbers.
· A flashing light on top of the drum will attract your child's attention as it flashes along with the sounds.
· Open the top to dump out the blocks and play again. Your little drummer will also enjoy tapping on the drum to play a variety of drum sounds and tunes. Drum up learning fun!
·Ages : 6-36 months




Boppy® Luxe Pillow

The original, award-winning Boppy® Nursing Pillow and Positioner celebrates over 25 years of supporting moms, dads and babies! This versatile nursing pillow lifts baby to a more ergonomic position for comfortable breastfeeding and bottle feeding, giving relief to your arms and back. Bond with your new baby by using the Boppy Nursing Pillow while you're breastfeeding or bottle feeding. In addition to breastfeeding and bottle feeding, the Boppy Pillow transitions to the perfect support pillow for different stages of development including propping, tummy time and learning to sit. The Boppy Pillow supports baby as she grows and develops and this multi-use pillow can be used for babies up to one year old. Comes with a luxuriously soft minky slipcover that is removable for easy washing. Delightful appliqué and coordinating piping complete this ultra plush pillow. The Boppy Pillow and Boppy® Slipcover are both machine washable and the slipcover is removable.