Tablets are a HOT item on many people's shopping lists and making sure that you get one that fits your needs is important. I have the HP Touch Pad which has been hijacked by the kids with their learning apps and game apps that it now has the job of handling the kids needs, which it does great how ever for when I go on trips and I take it with me it is on the bulkier side and is large and so it does not work very well. I also have the Kindle Fire and while I like it for books and using Facebook that is about all it is used for because that is what works well for me.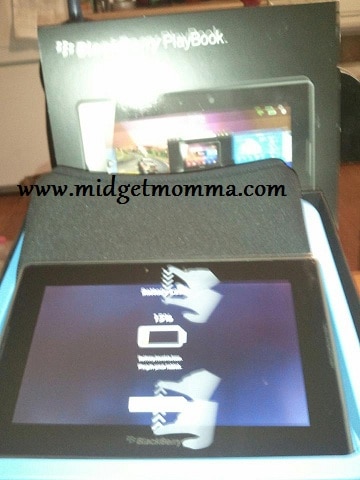 While having those two tablets I have been on the hunt for one that can be just mine, have the apps that I need like WordPress (so I can blog on the go), twitter for tweeting, Facebook and my e-mail. I do have my phone to use but it doesn't hold a charge and blogging from it is impossible (I have tried). So when the opportunity to review the Blackberry Playbook came up I was super excited. I was not sure what to expect but was super excited when I opened it up and LOVED the look of it right away and it even comes with a protective sleeve for it. It is slightly bigger then the Kindle Fire and a lot smaller then the HP Touchpad and fits nice in my purse (that is the first place i put it to see how it would fit 🙂 ).
I popped it on the charger and thankfully it didn't take long to charge because I could not wait to start testing it out. The first thing I noticed after turning it on was that they have a very helpful "orientation" the first time you use it, so no having to sort through a book to figure it out just watch the short how to. Then it was time to "make it mine", by setting up my Blackberry account, setting up my Facebook account (which the app is already on it!), twitter, my e-mail and a few other apps. It was easy to do and took no time at all which was great.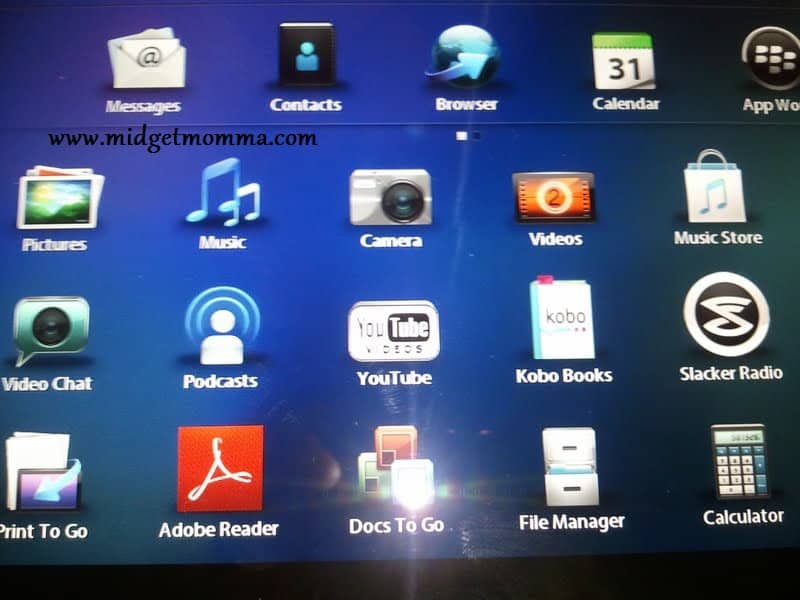 Navigating the Playbook was easy,and the set up having them all in one place makes it easy to find everything that you need. Setting it up with my WiFi was super simple and took just a few seconds to connect and then I was on my way to surfing the internet.
Of course my first stop when wondering around the internet was to visit my own blog to see how it looked. I was surprised by the clarity of the screen and how crisp and clear the screen is and how nice my site looks on it (much better the my computer screen which everything just looks horrible). Everything is easily readable, and the font size on the tablet is a great size. No eye struggles when reading the font on anything.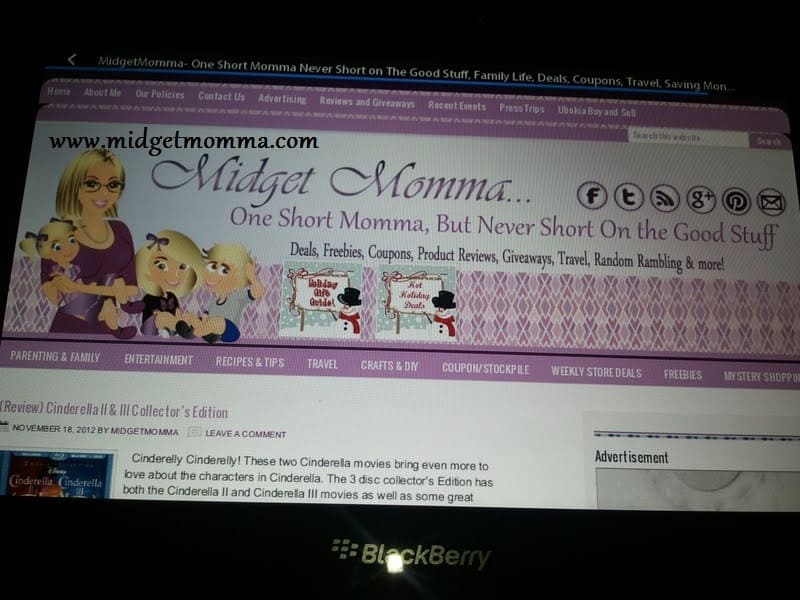 Quick Facts about the Blackberry Playbook:
– 7 inch screen and weighs .9 ounces
– Comes in 16GB, 32GB or 64GB Storage
-Records Videos in HD and you can hook it up to your TV with an HDMI cable and watch the videos
– Front facing and rears facing camera
– Speakers with volume control
 The Blackberry Playbook meets all of my needs, and then some. I am very happy there is a tablet that fits all my needs that is a budget friendly price.
You can purchase the Blackberry Playbook on Amazon
Disclaimer: I was provided promotional product to facilitate my review. No compensation was received and all opinions are 100% my own.
This post may contain affiliate links. Please read my disclosure policy here