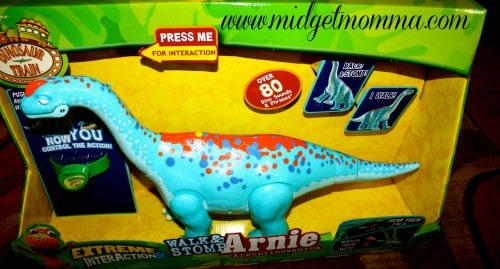 Just a couple months ago I reviewed Extreme InterActive Alvin from the Dinosaur Train which is a hit TV Show on PBS. I really enjoyed getting to know Alvin and finding out all he could do and say. But as I said in that review I couldn't get the full feeling of Extreme Interaction without one of Alvin's friends for him to interact with. So when Arnie arrived on my door step I was excited to see them interact. Let me tell you, you won't be disappointed. They talk to each other like they are real people. They say hi to each other among other things. But one of the best features is when they sing and dance. When I first heard them start singing about the dinosaur train I was in awe. Then when they hopped up and moved like they were dancing that was the icing on the cake. I soon realized this was better than I imagined. Alvin and Arnie together is kind of like you with your best friend just hanging out and having a good time. Another cool feature about Arnie is that he comes with a bracelet that your child can put around his or her wrist and have control of Arnie from there. What makes it even better is that your child can interact with Arnie using the bracelet just like the dinosaurs interact with each other. There is plenty to discover with Arnie. But like I said last review you need to have two of the Extreme InterAction dinosaurs to have the full experience. With just Arnie you could have tons of fun alone. But with his friends you will have a full blown dino bash. So hop on the Dinosaur Train and grab Arnie the Extreme InterAction Dinosaur. You will be blown away.
 Disclaimer: I was provided a promotional item to facilitate my review. No compensation was received and all opinions are 100% my own.
Join the newsletter
Subscribe to get our latest content by email.