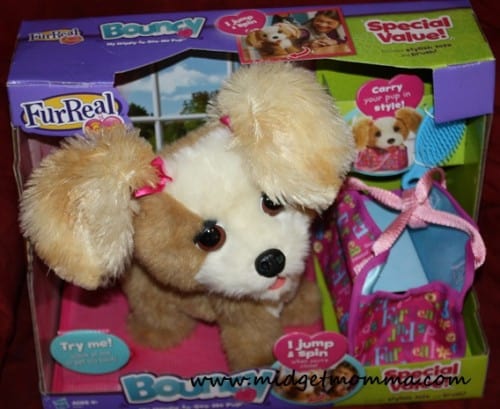 What little girl does not want a puppy? Well the answer in our house is mine, my 2.5 year old LOVES all stuffed dogs and all toys dogs but once a real one comes near here all bets are off and she "wants it to play somewhere else". The last time we were in store she saw the FurReal Friends Bouncy, My Happy-To-See-Me Pup and told me "that is my type of puppy" so when I was contacted about doing a review I knew that I was going to make her one very happy little girl. Well I got more then I expected from Bouncy because as soon as we took it out of the box she ran to her room and got her doll stroller and took her dog for a walk around the house. Then she told me puppy was hungry so she went back to her room and brought out two toy food bowls to feed the dog, of course next was play time and she did nothing but giggle as she "pet" the dog and it barked and got excited that she was playing with it.
As you can see my daughter and Bouncy have a TON of fun together when they are playing, from laughing and barking while rolling around on the floor.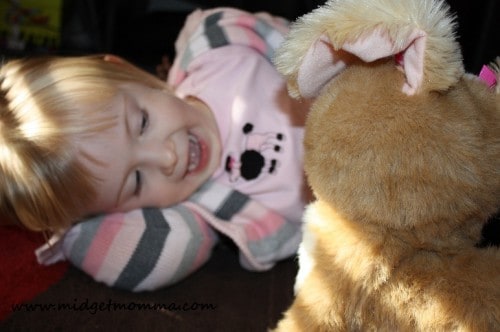 To going for a stroll down the hallway, sorry I meant to say to the Grocery Store (that is where my daughter said that they were going)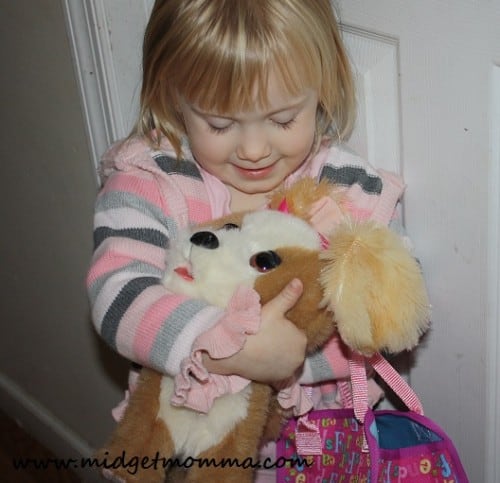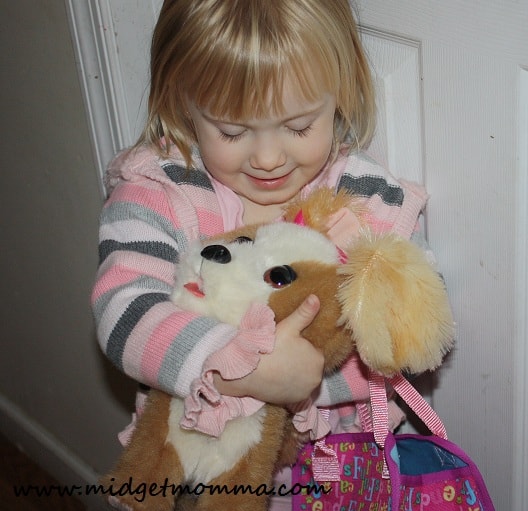 And let's not forget that Bouncy gets super excited when it is time for my daughter to make her lunch, and in case you are wondering what Bouncy's favorite food is, it is apples and cheese (according to my daughter). I can not say that your Bouncy will enjoy the same foods but I am sure she will love whatever your child feeds her for lunch 🙂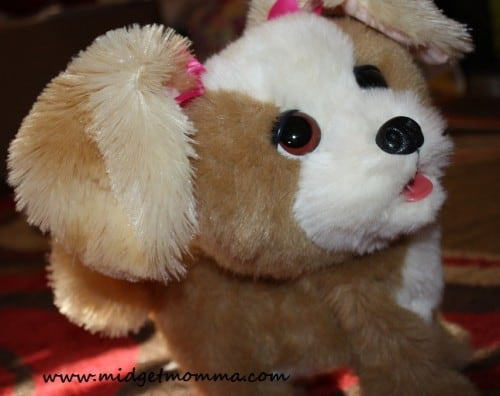 The FurReal Friends Bouncy, My Happy-To-See-Me Pup is part of KMart's Fab 15 list of of HOT toys this holiday season, and from how loved this toy is in my house I agree it belongs on that list.
You can purchase this toy on Amazon or in other retail stores such as KMart.
Disclaimer: I was provided this product free of charge to facilitate my review. No compensation was received. All opinions are 100% my own.