A few weeks ago the kids and I were invited to check out the new holiday fun at Build-a-Bear so we headed to our local Build-A-Bear store to check it all out. I had been told that they have a lot of new things that are perfect for getting in the holiday spirit but once you walk into the store you are surrounded by not only the fun that is always at Build-A-Bear but the festive characters, outfits, accessories and more that are perfect for decorating the house with.
The kids had a blast picking out their individual "bears". McKenzie picked the pink penguin, Logan picked the black penguin and Alyssa picked Clarice the reindeer. If you are taking the kiddos be prepared for them to go back and forth on their choices for which one they want because with so many awesome choices they might be there for a while trying to pick the perfect one to bring home with you.
Then the fun keeps on going as the kids pick out what characteristics they want for their new friend, this is always a fun one with my kids because they like to keep me guessing by changing things up each time. And then off to give our new friends their fluff, the hearts and if you are getting a music box in yours make sure you check out the awesome holiday songs they have to pick from!
Then came time for the clothing, while this is my kids absolute favorite part and it seemed like the combinations that could be made up with the different shirts, pants, skirts, shoes and accessories were endless. A great way for the kids to let their imagination flow in to making their new friend be their own 100%.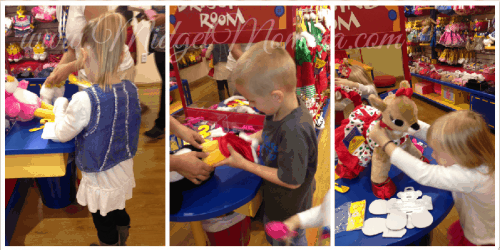 McKenzie made her pink penguin as girly as possible, which was easy to do. Logan made his penguin a Santa Penguin and Alyssa made sure that Clarice's outfit was festive for the holidays.
If you are looking for a fun time with the kiddos that will get you in the holiday spirit heading to Build-A-Bear and enjoying the time with one another while making a fun new friend that can be used to decorate along with having some fun!
Disclaimer: We were all invited to Build-A-Bear to check out the new holiday friends and accessories. Each of the kids got to make a new friend and dress them. No compensation was received and all opinions are 100% my own.
Join the newsletter
Subscribe to get our latest content by email.