The Holidays are a time when everyone is getting all excited to see friends and family gift ideas are one of the top things on the list for us all and when we are looking for gifts we want something that shows our friends and family how we feel and are personal. Hallmark has been a place that I have always turned to when looking for fun, personalized gifts that I can make personalized from me.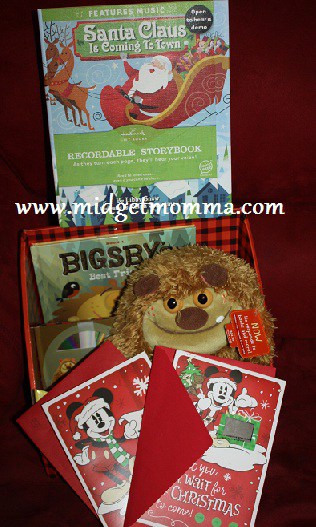 One of my favorite things is recordable books, which I have shared with you in the past this past spring with the Blooming Expressions and Springtime Recordable books. Just in time for the Christmas season a new recordable book, Santa Clause is Coming To Town. All children love to have things with their names on it or that says their name, and with my three having semi-unique names and slightly different spellings, I never can find things with their names on them so with the recorable book I can make it personal just for them and know that it will be something that they love.
I am also completely in love with the Interactive Storybooks, I did a review of the Jingle and Cooper Interactive Storybook buddies last year and they are still a big hit in our house. This year we were sent Bigsby and his storybook and we all enjoyed his story. I do have to say I think that Jingle and Cooper were excited to have another friend added to them as well 😉 Snuggling on the couch reading the book and having Bigsby give us his "thoughts" makes it even more fun!
If you have not checked out the holiday cards at Hallmark this year they have some really great Disney Christmas cards and they are fun as well since some of them sing holiday music when you open them and there are some that you can set a countdown counter on or record your own personal message!
Disclaimer: I was provided promotional items to facilitate my review. No compensation was received and all opinions are 100% my own.