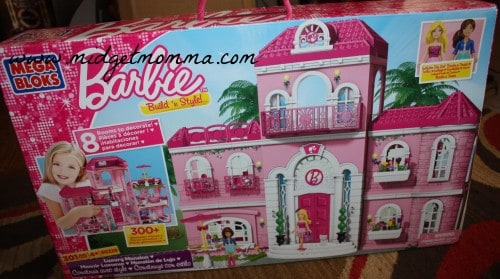 One of the best toys that I can ask for is one that involves family time, creativity and a lot of playtime and the Mega Bloks Barbie Build 'n Style Luxury Mansion hits every spot. While I am sure my oldest could have put this together herself it was fun for me and all three of the kids to work together to build it and then the three of them played with it for quite a long time after wards which made me fall in love with it.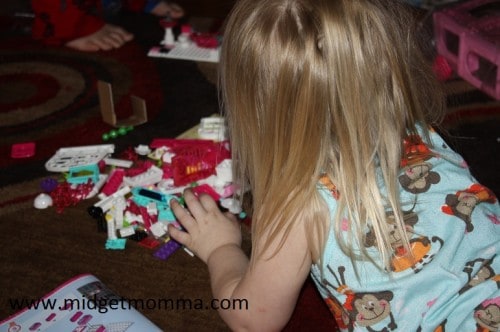 Putting it together was not very difficult, the instructions were clear (none of that nonsense no idea what they are talking about language) and the instruction pictures were clear. My 2.5 year old was even able to look at the picture and find the pieces I asked for in the huge pile of Mega Bloks 🙂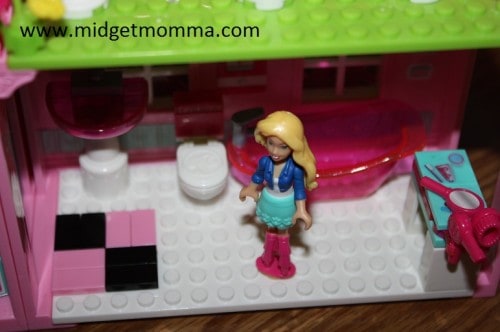 Once you get the basics put together you can customize it however you want to, you can move the housing pieces to form different house shapes and the rooms are built on flat pieces that you can interchange between rooms. It comes with 2 barbies that you can change their hair and their outfits to spice things up a bit. There is a ton of playtime hours in this toys and a great way for kids to use their imaginations and to work on their building and reading skills along with having a TON of fun!
The house is filled with so much fun, there is a working elevator, accessories like food and bathroom needs like a blowdry that make Barbie have everything she needs and more in her fun Mega Bloks house!
Features:
·         The Barbie fabulous luxury mansion with eight buildable rooms to design and decorate!
·         A real working elevator
·         Glam accessories for endless design and decoration possibilities
·         Mini-Fashion Figures Barbie and Teresa each with extra outfits they can share!
·         Combine with all of the other Mega Bloks Barbie playsets to build a fabulous world of fashion, friends and fun!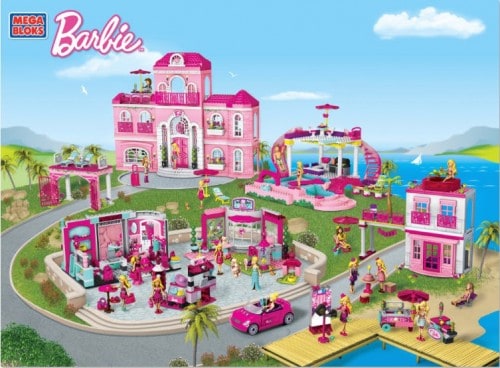 There is an entire line of these awesome Barbie Mega Bloks, and I am super excited to get a few more sets so that we can have more fun together putting them together 🙂
Disclaimer: I was provided a promotional item to facilitate my review. No compensation was received and all opinions are 100% my own!
Join the newsletter
Subscribe to get our latest content by email.