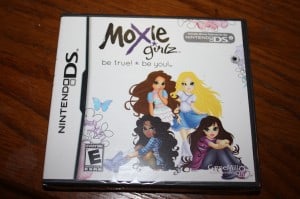 Got a daughter who loves Barbie and Moxie Girls? Then she is going to love this game! Bringing the world of Moxie Girls to life in the game where you are working on a magazine is the perfect game for girls who love all things hair, make up, and fashion! There are 4 girls to choose from in the game, each one you are able to change their outfits and their hair styles. You can get very creative with the outfits and accessories (which is perfect for the little girls who like to dress up dolls) Then it is time to have photo shoots to design your magazine with! There are different backdrops to choose from for your photo shoot. The mini game of delivering your magazine is how you earn coins to continue on the journey and you can buy more clothing and accessories to continue with more photo shoots and make more magazine issues!
Moxie Girls has a fantastic Moto:
Every girl has the strength to do something amazing. Anything is possible as long as you stay true to yourself and never give up on your dreams! What is Moxie? 1. Positive attitude and confidence. 2. The courage to go for it. 3. Energy in everything you do. Moxie Girlz are full of energy and self-confidence. She's unique, bright, empowered, brave, and stylish. Moxie Girlz can do anything!
Keeping life positive is important for all kids, and it helps them build their self esteem and how they view themselves. With all the nonpositive things in life I feel it is important for my kids to look at things in a positive light, and with the Moxie Girls Moto all girls will be reminded of being positive while playing this game.
My daughter loves playing with Barbies and dolls when we are at home, but on road trips that is one of the things that she can not really bring with us to do in the car, but with the Moxie Girls game for DS she can still enjoy one of her favorite things to do by playing this game on her DS 🙂
Right now the Moxie Girls DS game
 is on sale for $16 on Amazon!
This product is a part of my Holiday Gift and was sent free of charge to facilitate my review. All opinions are my own.
Join the newsletter
Subscribe to get our latest content by email.