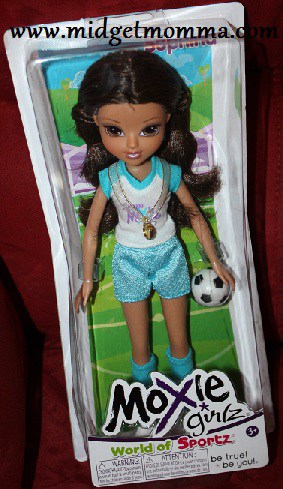 Boys are not the only ones who enjoy sports and the new Moxie Girlz World of Sportz: Moxie Girlz™ have brought sports to the doll world for girls. A great way to get girls to see that just as much as boys can play sports so can they! There are 5 fun girls that all play sports that your girl can enjoy having fun with and getting in the mood for playing sports.
We got to venture in to the world of soccer with Sophina, she is dressed in a super cute outfit and comes with her very own soccer ball. Surprisingly my oldest daughter was the one who was most interested in this doll, I was certain that my youngest would see the doll with a ball and want to play with it but that was not the case. My oldest daughter who is 7 went and got the rest of her dolls and her brother and all the dolls had a soccer match in my living room. They even set up goals using shoe boxes.
The five dolls in this Moxie Girlz line are:
Avery™ (Gymnastics)
Sophina™ (Soccer/Football)
Kellan™ (Tennis)
Lexa™ (Boxing)
Bria™ (Judo)
You can purchase these dolls on Amazon and the Little Tikes website.
Disclaimer:  I was provided this product to facilitate my review, no compensation was received. All opinions are 100% my own.
Join the newsletter
Subscribe to get our latest content by email.