I remember when I was a kid and getting my Game Boy, it was like I had reached the top of the world. My parents were not big on video games and so my sisters and I did not have Nintendo systems (even though we asked often) and then when I opened my Game Boy for the first time I remember being so excited that I had gotten one, I asked often but never expected that it would actually happen. When we were contacted about checking out the new Nintendo 2DS I was excited my first thought looking at it was that it reminded me of the original Game Boy. Yes it is a bit bigger, it has better technology but it is the same type of shape and has many similarities to my original and only game system as a child.
My kids have a few of the different Nintendo Game systems that we have been sent over the past few years to try out, like our Nintendo 3ds Review, Nintendo DS Lite Review, Nintendo Wii Review, and Nintendo DSi XL review  and I have to say I think of all the handhelds this one is my favorite.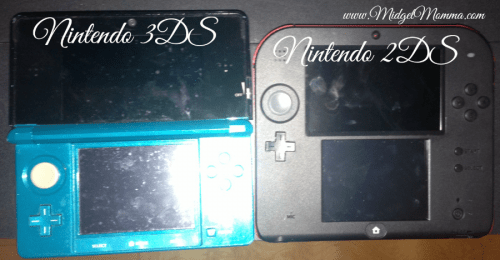 One thing I really like is the shape of it, not just because I am a Game Boy lover but because Alyssa has troubles with the folding portion of the other devices and this one she can lay the device down flat and play it. I also love that she can play the games the older 2 play and I don't have to worry about the 3D part being turned off because it plays all the 3DS games but in 2D!
The size of the device is a bit smaller then the 3DS and it is a more solid feeling device then the 3ds. If you have younger kids who are wanting to play video games like the big kids and you are worried about them breaking the 3DS because it is slim and folds in half the 2DS will fit the bill nicely for what you want for your kiddo.
The way the buttons are laid out I like, I think my kids find them easy to use and with them in the middle of the device instead of on the bottom I think it is easier for little hands. The dual screen makes playing and navigating the device and the games you are playing easy.
While  I could go on and on about what I think about it, what my kids think is more valuable to you guys as it will be your kids playing it 😉
McKenzie: Age 8
The size is good for my hands, I don't have to worry about keeping the 3DS part off like I do on my 3ds and sometimes with my 3ds i accidentally hit the spot to make it change mid game and it messes up so I like that part. I do wish they had it in pink or purple but the red one we got could be for boys or girls. I also like that I can play all my games on it, the regular DS games and the 3DS games.
Logan: Age 6
I like the colors it comes in, both the red and the blue and I like that it has back on the front of it. I like that I don't have to worry about anyone closing the top on me when I am playing a game. I also like that I can play all my games on it. It is easy for my to play my games and it wasn't hard to use the controllers.
You can purchase the nintendo 2ds on Amazon
Disclaimer: We were provided product free of charge to facilitate the review. No compensation was received and all opinions are my own.
Join the newsletter
Subscribe to get our latest content by email.