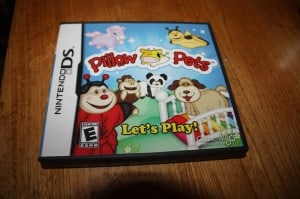 Make your pillow pets come alive I don't know if your kids are like mine or not, but all of their stuffed animals come to life. They run around my house making their stuffed animals talk and dance and come to life. All kids love Pillow Pets, mine included so put together Pillow Pets and bringing them to life where they walk, talk and go on an adventure and you have a kids imagination brought to life with the help of the Nintendo DS.
You start the game out with the lady bug Pillow pet, and have the option to name her whatever you want to (What kid doesn't like to name their stuffed animals?) Go on an adventure through dreamland, meet all the pillow pet characters and rescue pillow pets! The game is easy to play, so there was not a lot of "Mommy I need help" the only time we had that was when something needed to be read which was not very often:)
You can snag Pillow Pets on sale right now on Amazon for $16.00 shipped!
This product is a part of our Holiday gift guide, this product was provided to me free of charge to facilitate my review, all opinions are my own.
Join the newsletter
Subscribe to get our latest content by email.
This post may contain affiliate links. Please read my disclosure policy here