Keeping Alyssa entertained and happy while I have to work some days is extremely tricky. She is only 3 and so the activities I do with her need to be things that we can sit together to do while I am working at the same time. Yes easier said then done most of the time. The main thing we have begun doing is having her do her activities at the dining room table while i sit next to her at the table so we are both together. Coloring and play-doh have been the top choices for a long time but we added in a new one that she seems to enjoy lot.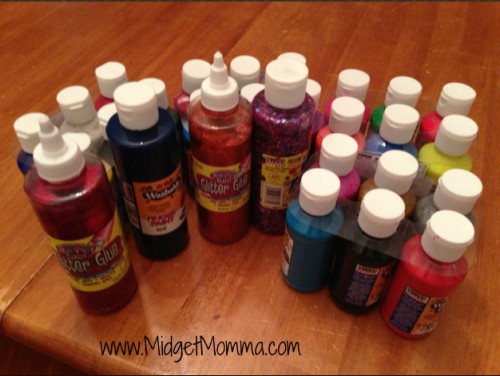 Painting. Thanks to Rich Art Washable Paint she has been having a ton of fun painting. With the many different colors to pick from, from bold and bright to shiny and sparkly any thing she wants to paint she can and with any color. The selection of colors that they have to offer is great.
The washable part of the paint makes it perfect for younger kids, if they get it on their hands it is super easy to wash off, you just need a little bit of soap and you are good to go! We have not had the issue of her getting it on her clothing so I don't know how well it comes out of clothing but I have a feeling it will come out easily with how much dried paint was on Alyssa's hands the one day 😉
This paint would also be great for making holiday cards and the glitter paint is great for letting the kids design a card and make a craft project and let them express their creativity.
Disclaimer: I was provided product free of charge to facilitate my review. No compensation was received and all opinions are 100% my own.