We all know that yummy smell of rotisserie chicken that streams from the deli when we are in the grocery store, wouldn't it be nice to have that wonderful smell cooking in your own home and have a fresh cooked rotisserie chicken at home with out having to go to the store? You can, with the Ronco Rotisserie. While the appliance is slightly on the large side don't let it scare you, the flavor that will come from it is amazing and it is super simple to use!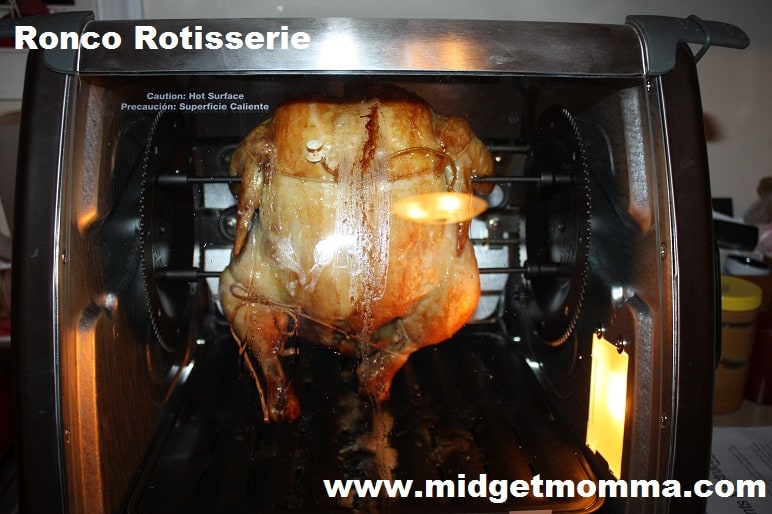 We cooked a chicken in it last night, which I will say one of my families least favorite meals is when I cook a whole chicken. Normally I cook it in the oven and it comes out dry and no matter how many times I try to cook a chicken in the oven it turns out that way. So last night when I told my family I was making a whole chicken for dinner the very unwelcomed groans followed along with the comments of how dry it is when I make it. We were all pleasantly surprised that I was able to make a chicken that was nice and juicy and very tasty. I can not take the credit for it though, the credit goes to the Ronco Rotisserie.
It was super simple to do too. All I had to do was take the chicken out of the packaging, rinse it with warm water, stick the rack pieces through it, pop it in the rotisserie and turn it on. An hour and a half later we had a yummy, moist, juicy chicken. I used the chicken to make chicken, avocado and cheese wraps and so I did not season the chicken with anything and it came out perfect. Next time I am going to try adding seasoning to the chicken and roasting it that way and then have just the chicken with some homemade macaroni and cheese, mashed potatoes and corn:)
You might be thinking what else can I make in it it and there are plenty of other things that you can make in the rotisserie other then just chicken:) You could use it to cook your turkey for Thanksgiving, or you can cook things like steak, ribs, fish, veggies, and more in it!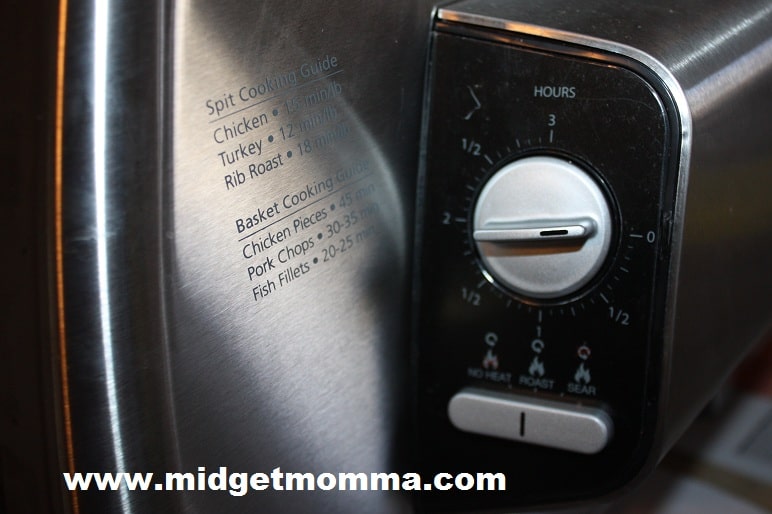 It is super simple to set the timer, you just turn the dial for how long you need it to cook for and then it automatically shuts off when the cook time is done. There are 3 different settings, no heat, roast and broil.
I am excited to be able to cook for a different way then just using the oven or the grill and I am excited to try cooking salmon and veggies in it!
You can purchase the Ronco Rotisserie on Amazon 
Disclaimer: I was provided a promotional product to facilitate my review. No compensation was received, all opinions are 100% my own. 
Join the newsletter
Subscribe to get our latest content by email.
This post may contain affiliate links. Please read my disclosure policy here