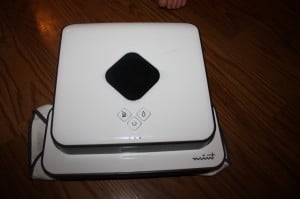 All I can say is I am in LOVE, no seriously I am. I hate cleaning floors, i can not stand the mop and bucket way, or the bucket and get on your knees way or even the simple wet jet mop way to clean floors. Cleaning floors is my least favorite household task to do and I have always wanted an easier way to clean my floors (read so I don't have to do it). So when the opportunity came to me to review the Evolution Robotics Mint Automatic Floor Cleaner I was super excited. A robot floor cleaner that I just wet a cloth, put it on the machine, put the machine on the floor and turn it on! AWESOME! Now I will say hubby was not as excited about this as I was. He was very unsure of how it would clean the floors and if it would actually get them clean. It does and it can be used for both mopping and sweeping! The best thing is that I can set it to go while I run to the store and I come home to clean floors! It is like having a maid but not 🙂 Now the price is $249 regular price (right now you can get the Evolution Robotics Mint Automatic Floor Cleaner for $198 on Amazon) and you can choose if you want to use swiffer cloths or the reusable cloths. The reusable microfiber cloths run about $20 for 3 of them, but you can reuse them over and over, just use them to clean your floor and throw them in the wash and use them again!
This for me is a great alternative to having someone come in my house and clean the floors for me and an even better alternative to me having to do them myself! It has a GPS box that it uses to navigate your house and it will always end up back in the same place it started. I also really love that when it runs into something it backs up and can figure out how to navigate around and under pieces of furniture in your house.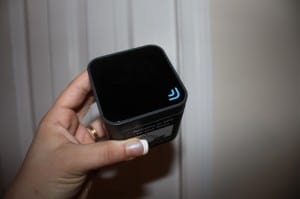 Now you may think it may not work but here is a picture of the dirty microfiber cloth after it did my kitchen, living room and hall way(no my house is not normally that dirty but for the sake of the review I let the floors go a few days longer then I normally would between washing them to see just how good of a job it would do!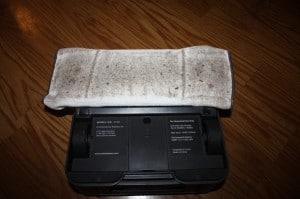 This would make a great gift for someone who like me does not like to clean floors, or the busy mom who is running around after young kids all day that just does not always have the time. You can turn it on before you leave the house or go to bed at night and you will see clean floors when you get home or wake up! Who wouldn't want to wake up to clean floors?
This product is a part of our Holiday Gift guide and was provided free of charge to facilitate my review. All opinions are my own.
Join the newsletter
Subscribe to get our latest content by email.
This post may contain affiliate links. Please read my disclosure policy here