This post is sponsored by Megan Media and Mattel. The opinions and ideas expressed here are our own.
#AllMonstersAreWelcome
Girls can be tough to shop for, and the gift choices out there can be overwhelming. With so many options, it's tough to decide which ones to share with you all. Thankfully, I have McKenzie and Alyssa who help me when it comes to opportunities to partner with brands, like we did for this post with Mattel; they tell me what they love, and I run with it!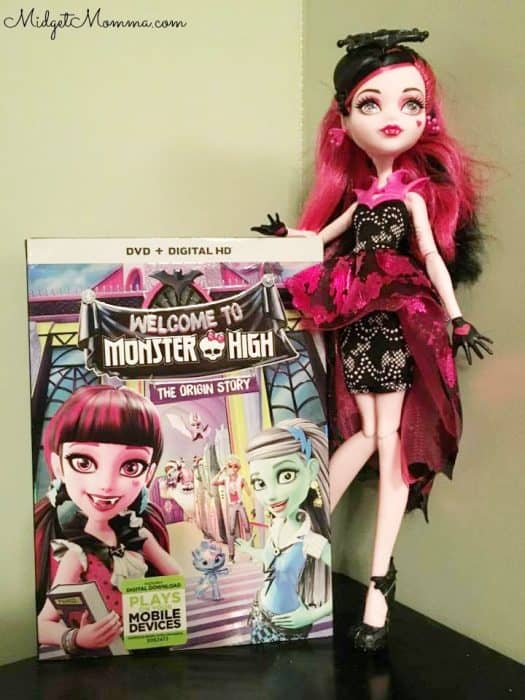 They have always loved the Monster High Dolls, and I am excited for the newest additions to the line: the "Welcome to Monster High – The Origins Story" DVD and new Welcome to Monster High dolls.
The dolls are super fun, and they come with some really great photo booth props, too! I am personally loving all the details in them, like their glam metallic party dresses! The kids say the bending arms and legs are a BIG plus for them, too. Apparently dolls don't "sit the right way" if their legs don't bend 😉
According to the kids, Monster High "Welcome to Monster High – The Origin Story" is THE COOLEST kids film with THE BEST holiday toys to go with it. They've most definitely let me know that these dolls are on their Santa wish lists!
Dolls in the Welcome to Monster High Line:
The kids loved playing with the Dance the Fright Away Draculaura doll pictured in this article, but she's not the only doll to chose from. There are other fun Welcome to Monster High dolls too, like Dance the Fright Away Frankie Stein doll and Singing Pop Star Ari Hauntingon doll, with their own monster style!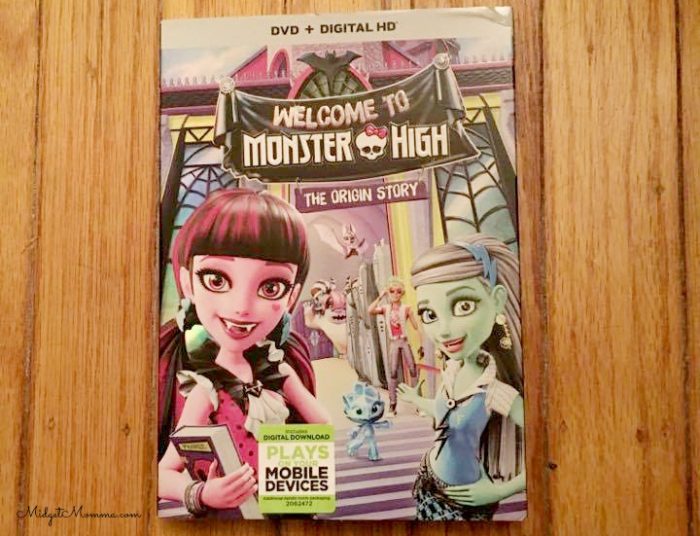 The creativity within the new Monster High: Welcome to Monster High Line is so much fun for the kids! They can watch the movie and then reenact it with their dolls, which is why the girls are insisting that they NEED all 3 of the dolls, and guess what? I'm buying them 😉 Anything that gets them going with creative play is a win in my book!
We get an inside look at how Monster High was created, Draculaura and Frankie Stein share the story on how they want wanted a place where everyone was welcome and no one is left out and from that idea Monster High was born!
The adventure of finding all the Monsters to join is filled with so much positive energy that you can not just sit and watch the movie, it is a MUST to get out the dolls so they can join in the fun too! You might catch yourself and the kids getting far more into the music then you originally planned on 😉
After the movie was over Alyssa told me
"I loved it when "the good monsters" stood up for the human because even tho she was not like them they cared about her. The good Monsters did not want the bad monster to hurt her. That is like what you say about how we should be nice to people who are different because we are all different".
Not only do I love that this movie entertaining for the kids (ok and myself too) , I also love the positive lessons it teaches my girls. It teaches a great lesson on how no matter what we should love each other and no one should be left out! This is something that I am always looking to reinforce with my girls, there is never too much reinforcement on being kind and including everyone!
If you're doing your shopping online, you can find these dolls and the DVD directly on Mattel's site! Be sure to grab the movie as well, it makes for a fun movie date with your girls, and they will thank you for it!
This post is sponsored by Megan Media and Mattel. The opinions and ideas expressed here are our own.