Holiday Gift Rice Krispies Treats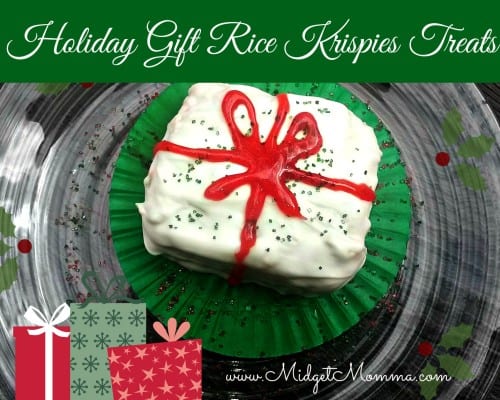 Treat your taste buds with this special holiday gift. These are perfect for any holiday party!!
Holiday Gift Rice Krispies Treats  Ingredients
3 tablespoons butter or margarine
1 package (10 oz., about 40) regular marshmallows OR 4 cups miniature marshmallows
6 cups Kellogg's® Rice Krispies® cereal
Candy Melts
Red icing gel (I found mine at Walmart craft section with all the other cake decorating items and you can use any color)
Holiday Gift Rice Krispies Treats Directions
 In large saucepan melt butter over low heat. Add marshmallows and stir until completely melted. Remove from heat.
Add KELLOGG'S RICE KRISPIES cereal. Stir until well coated.
 Using buttered spatula or wax paper (I sprayed my hands with it) evenly press mixture into 13 x 9 x 2-inch pan coated with cooking spray. Cool. Cut into 2-inch squares. Best if served the same day.
 Melt the Candy Melts
 Take the 2 inch square rice crispy treats (Pack them tightly together) and dip them into the melted candy melts 6. Let the candy melts harden a bit then take the icing gel and create a ribbon on the rice crispy treat.
 Present your gifts to you family and friends for a nice festive snack.