Disclaimer: I was not compensated for sharing this information, this beautiful baby girl and her awesome family can use all the help they can get with the medical needs and home adjustments so they can bring their daughter home! They are a personal friend of mine. Please find it in your heart to help them out:)
On facebook I have been sharing about a BEAUTIFUL little baby girl named Harper who has been a fighter for the last 7 months! She has over come MANY challenges since she was born and she is rocking them all and concurring the world! This little baby girl is my college roommates, sister's daughter and so I have a personal connection to this little girl and the support you have given so far has been AWESOME!
A little bit about Harper :
Harper Adrianna Lorson was born prematurely on March 13, 2013 at the gestational age of 31 weeks & 4 days. She weighed 3lbs. 9.3 oz. and was 15.5 in. long. She was immediately taken to the NICU & later the PICU where she has remained since her birth. 200+ days and still fighting!
You can follow her facebook page and watch this beautiful baby girl grow and smile each day!
Right now they are working on having Harper come home! With in the next 4-6 weeks as long as she has nothing medical come up she will be coming home! Absolutely Amazing!!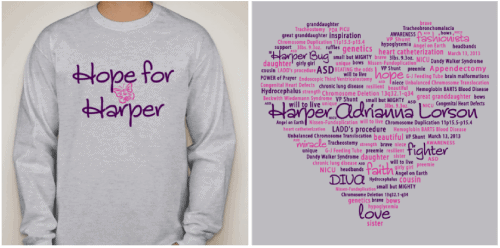 To help out they have a fundraiser going on where you can get  a Hope  for Harper  Shirt for $25 and help the family out with the expenses it is going to take to bring Harper Home. Get yours here
You can read all about Harper's story here and follow her story on facebook here
This post may contain affiliate links. Please read my disclosure policy here