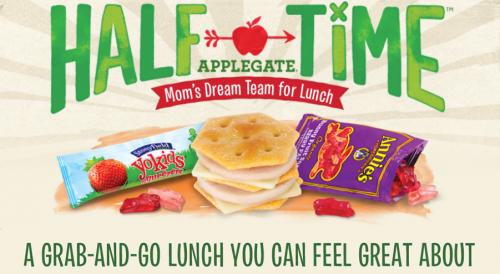 Mom's Dream Team has finally come together for lunch! Applegate teamed up with Stonyfield and Annie's to create HALF TIME™, the first pre-packed lunch kit with natural and organic ingredients. HALF TIME™ includes Applegate natural meats and cheeses (which have no artificial ingredients or preservatives, and are antibiotic- and hormone-free), Annie's Homegrown crackers and snacks, and Stonyfield Organic YoKids Squeezers. Applegate wants to take that lunch-packing dread off your hands, and give you a chance to sit back and relax. We are offering to send bloggers a snazzy kit and reader giveaway. These are like the organic, natural and healthy version of lunchables!!
Print your .75 off 1 coupon here, they are normally $4.99 each but if your store doubles they will be $3.49 each! But keep an eye out for a sale and you should be able to score them even Cheaper!!

The kit includes:
– All three varieties of HALF TIME™: Turkey & Cheese, Ham & Cheese, and Bologna & Cheese
– A draw-your-own lunch bag
– A set of permanent markers
– Coupons
– Activity book
Get your kids to design their own lunch bag and send it out the door filled with a HALF TIME for mornings when you need a break.
$4.99
This post may contain affiliate links. Please read my disclosure policy here