Calling all my Acme shoppers! You do not want to miss this AWESOME sale! Right now they have the Stock up sale going on and he deals are HOT HOT HOT! (I am totally jealous of you all by the way and this sale makes me want to drive the 1.5 hours to my closest Acme and get my shopping on!)! This awesome sale runs for two weeks from October 1st-14th   and each week there are going to be different items that are on sale to stock up on!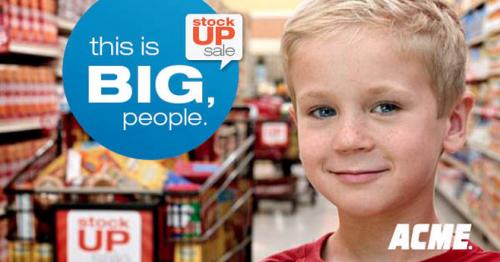 Make sure you head on over here and print the coupons that you can match with the sale AND make sure you download the MyMixx  app so you can maximize your savings!!
They have some totally AWESOME Sales some of the items are:
General Mills Cereals (Cheerios, Cocoa Puffs, Lucky Charms)
Chex Mix Snack Mix
Nature Valley Granola Bars
Fiber One Cookies and Bars
Old El Paso
Betty Crocker
Gold Meal Flour
Yoplait Yogurt
Pillsbury Crescent Rolls, Cinnamon Rolls and Ready to bake cookies
Green Giant Boil in Bag Vegetables
Green Giant Majors and Steam Crisp Vegetables
Disclaimer: This post is sponsored by Acme. All opinions are 100% my own.