I went shopping at Walmart last night for a few things and I was looking for the money maker Bengay with no luck, but I did find a few others that were pretty sweet deals!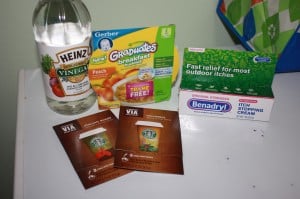 Starbucks VIA Instant Coffeee 3 count pack @ 2.92 —- $1.50/1 peelies on packages makes them 1.42 each(.47 a cup of coffee!) (Yes there is a peelie that does not allow you to buy the 3 count packages but there are ones that have no restrictions on them as well please make sure yours does not have any restrictions)
Heinz Viniger @ 1.12 —-$1/1 from = .12
Gerber Graduates Breakfast @ $1.50 with a MIR on the package= FREE
Benedryl @ 3.88 used the $2/1 coupon (They were out of the stick that is .28 after coupon but this is not to bad of a price after coupon)
What Deals have you found lately at Walmart?
This post may contain affiliate links. Please read my disclosure policy here