If you are a Smartphone user you WANT to check this out!! Mobile Xpressions, a marketing research company is accepting a VERY limited amount of people into their marketing research program!
What do you have to do? All you need is a smartphone, download the market research program to your smartphone and you will get a prize! Everyone who signs up will get a prize, the minimum prize is a $5 Amazon gift card but people are even getting TVs! But you have to HURRY they are VERY limited sign ups!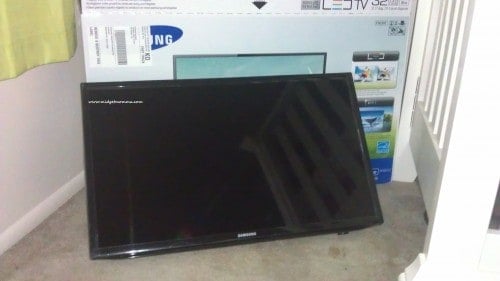 That is a picture of Michelle's TV that she won in June!!!
With in 2 weeks of signing up you will get an e-mail with your prize in it! Hurry and sign up for Mobile Xpressions to get started!!
If you missed it when I posted about Reader Michelle winning a Samsung Flat Screen HD TV last month from them check out the post here!!
Reader Robyn  said "I just got an email today saying I won an Ipad 3!!"
More information on MobileXpressions
After you have been an active member of MobileXpression for at least a week, you will receive a token to be used in the MobileXpression Instant Rewards game. Remember, being an active member means that the MobileXpression software must remain on your phone and your phone must be allowed to communicate with MobileXpression. You are guaranteed a prize from our prize pool, which includes Amazon gift cards, an Apple iPad 2, a Samsung LCD HDTV and other exciting prizes. Everyone wins a prize! 
Plus, once you install the software, you can enter our Weekly Winners Sweepstakes. Each Monday we give away a new prize in our Weekly Winners Sweepstakes. Only people who have the MobileXpression software on their phones can enter. We're giving away fun prizes like a Blu-Ray player, a digital camera, and a portable DVD player.
Join the newsletter
Subscribe to get our latest content by email.
This post may contain affiliate links. Please read my disclosure policy here