I have recently been talking about Essential Oils and realized that I never wrote a post about how you can use them when you are on a budget and how they can save you money in the long run. I have written a post here on How to save money on Essential Oils that you might want to check out as well.
I coupon like a crazy lady and one of the things I have been saying for years on this blog is that couponing is a great way to save money so you can afford other things. For us one of those things is Young Living Essential Oils. I currently use them on myself and the kids and cleaning the house and I am working on getting Tom to jump on board. (But that is a normal thing in our house, I find something and get hooked he is a bit late jumping on board, it happened when I started couponing too 😉 )
For me when I coupon it started as the way to put food on the table, shampoo in the bathroom and diapers on the kiddos cute little butts and as my stockpile has grown over the years and I have kept on it is has made it so I can now use the money on things I want and we need and I really try to get the most bang for my buck no matter what it is that I am doing and so for me the Essential oils are both a want and a money saver. So it is a win win.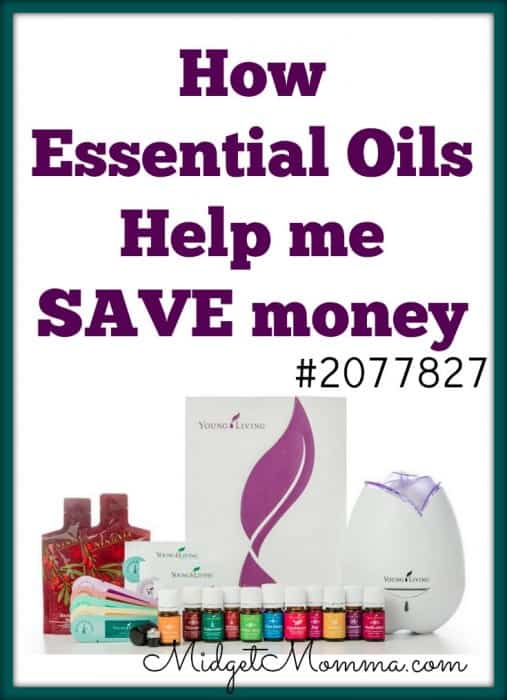 For me using Essential Oils is not only a way to make our life better but a way for us to save money. I enjoy using Essential Oils, I love how there are so many different uses for them and how they are bettering the life of my family but I also really love that they save me money.
Yes they make things like toothpaste (which I have tried and do like) from Young Living, but I can get free toothpaste so hat is not one of the items that I use because for me the savings is not there and we stick to the free toothpaste that we can get, however like the time i cut my gum open when I was using a new electric toothbrush and the normal toothpaste we use burned, I was told using the Thieves toothpaste would not only help with healing it but it also would not burn when I brushed my teeth, and I used it then and it worked, but for everyday all the time use I am sticking with my free toothpaste 😉
While not everything that Young Living offers helps my budget and there are many products I have not tried yet because they don't fit with how we live and my budget there many things from Young Living that DO help with my budget.
We have cats, two of them and we all know how nasty a litter box smells after one has used it, I used to have sprays that I would spray in the bathroom to get the smell away and not only did it not always work, but they are costly. With Essential Oils I can use 1-2 drops of purification in my diffuser and boom smell be gone!
Cleaning supplies can be costly, but there are sooo many different ways that you can use Essential Oils to clean. I was a lover of bleach and tried Thieves cleaner and I was hooked. Not only did it make the house smell great, but it cleaned the house and it was easier on the budget then buying the expensive cleaners.
Both of my younger kids have horrible excema that rears its ugly head it seems to never go away. We have used so many over the counter products and while they work for a while they soon stop and we are back to looking for something that works again. For the past few months I have been using homemade excema cream and so far the kids have not had it stop working. For me that is a HUGE win since some of the RX creams they have been given by the doctor have cost me $20 or more!
I don't sleep, but that is nothing you all don't know and while I am still not sleeping as much as I should I can say I am sleeping MUCH better. I have tried things like melatonin, rx sleep aids, warm baths and I still had issues sleeping a good sleep. (Ask Tom there are some nights he goes back to the couch because he can't deal with my tossing, turning and apparently I kick him in my sleep too!) But recently I have been diffusing lavender oil at bed time and I sleep soo much better! So much better in fact that Tom actually stays in the bed some nights LOL. I have tested it and the night I do not diffuse I find him back on the couch when I wake up in the morning!

I will be posting all sorts of things involving essential oils, how to use them, homemade products and tips in the coming weeks as I am really excited about them and how they have been working for my family and I want to share with all of you the ways that you can use them that will help your budget too!
Because they have helped me with my budget and saving money and they have helped my family I am spreading the word and I am helping you save even more with this awesome deal that is only until March 31, 2015!
With the deal you will be saving a LOT of money! Normally if you were to buy everything in the Premium Starter kit you would spend $300 but when you buy the starter kit you will save $150!! Then You are going to get a FREE $15 Amazon gift card (which you can use to buy things like the Essential oils labels or a carrying case but I want you to be able to use it for something that YOU need) and you will get the HUGE Essential Oils reference book that may very possibly become your best friend.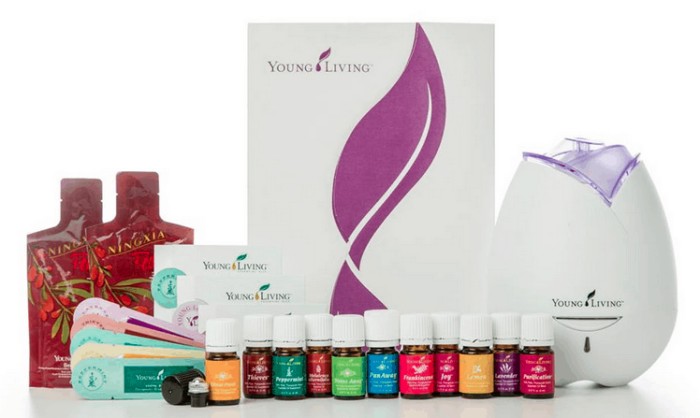 What You get in your Starter Kit ($150 Savings):
* Home Diffuser
* 11 bottles of the most popular oils (5ml size) – These are all the ones you will need to get started, these 11 are the ones that you will use the most!
* Product samples (great for sharing with friends & great for the purse! One of the samples is of Ningxia, I love this stuff and I am working on getting Tom to use it too)
*Roller which makes for putting on oils soo much easier (like on your neck and head when you have a headache)
* Wholesale membership (future discounts!)
* $15 Amazon Gift Card
*HUGE Essential Oils Reference Book (Reg $17!)
How to get your Starter kit and $30 in Freebies:
Head over to the Young Living page here and fill in your information.
*Be sure the "Wholesale Member" option is checked so that you don't end up paying retail prices. This will allow you to save 24% off all your oils! That is a MUCH better deal then paying the retail prices and how you save 50% off right off the bat!
*Be sure the "sponsor ID" and "enroller id" say 2077827 (so that I can send you your freebies)!

*If you do not feel comfortable putting in your social security number (this is only for tax purposes if you decide to turn this into a business, Young Living is required by law to ask for it) then you can get an EIN from the IRS   in just a few seconds here and use that number instead (the IRS just needs to be able to connect some number with you for tax purposes). The reason you are asked to list your social security number is for tax purposes. If you make over $600 per year selling Young Living products, you will receive a 1099 form in the mail, as is required by law. Young Living is a 20 year old company and will never share this info with anyone.

Select your starter kit. My recommendation is the Premium Starter Kit ($150). This kit comes with the oils that I use every single day and will qualify you for all of the freebies that I mention above!

Step 3 in the sign-up process is totally optional. Young Living offers an awesome program called Essential Rewards that allows us to earn free oils by earning points on products that we want to buy anyway. It also gives us reduced shipping!
That's it! Then you will get your starter kit in the mail and within 4-6 weeks your welcome packet with gift from me will arrive  

Finally, don't forget to confirm your order! The tool will log you in (or you can go directly to YoungLiving.org), allow you to confirm your order again and you'll need to enter your payment information again. Don't miss this step or your order will not be confirmed!
Head on over here to get started.

Disclaimer: These statements have not been evaluated by the Food and Drug Administration. The information on this site is not intended or implied to be a substitute for professional medical advice, diagnosis or treatment. Please confirm any information obtained from or through this web site with other sources, and review all information regarding any medical condition or treatment with your physician. Never disregard professional medical advice or delay seeking medical treatment because of something you have read on this website. This information is not intended to diagnose, treat, or cure any disease.