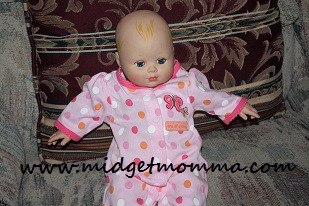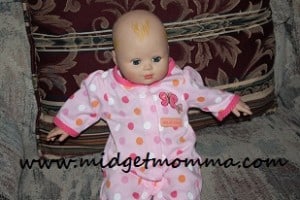 How to Save Money on Doll Clothes
Both of my little girls like to play with dolls, and my 2 year old has been even more into changing her baby dolls clothes then my oldest ever was or even still is, but the price of baby doll clothes is expensive, they want $10 or more for a little baby doll outfit. My solution head to the clearance section of Walmart, target or other retail stores where you can get infant baby clothes for really cheap and get preemie and newborn sized clothes:) they are a little big on the dolls, but kids do not normally notice! I bought the sleeper on the doll above for only $1!
Other ways that I save money on my girls dolls clothes is to find infant clothes at yard sales and thrift stores. I have saved a few of the outfits and sleepers that all 3 of my kids have worn so they can use them on their dolls. Things like sleepers, onsies and dresses in new born and preemie sizes work great for doll clothes.
For blankets for their dolls they use swaddling blankets (the really thin ones like you get at the hospital). Of course they need to feed their baby dolls too so you can use bottles that you no longer need and the infant bowls and spoons work great for playtime feeding with baby dolls.
Looking for things like doll cribs and high chairs? check out your local craigslist, yardsales or places like copious (where you can get a FREE $10 credit right now) and get used toys. Little Tikes and Step 2 products last a long time and you can find them at really great prices at yardsales and on craigslist.
What are some ways you save money on your kids doll's needs?