Cutting the cable seems kinda scary, however it is a great way to save $100 or more a year. Cable is expensive and can cost as much as $200 a month! However there are many different options now that you can use to ditch the cable and save a TON of money!
How To Save Money Using Streaming TV shows and Movies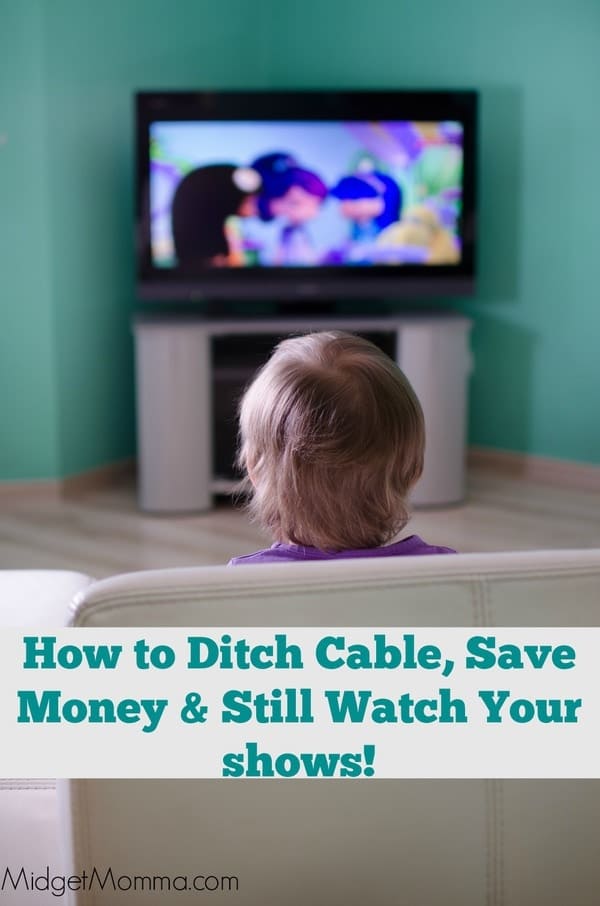 This is a guest post written by Michelle.
How To Save Money Streaming TV Shows
We don't have cable.. like at all. I know to some people (people with cable) you're probably thinking "Oh My God!" but it's really not that bad… and for us even better than having cable.
We used to have cable. With every possible package you can imagine. We then got Netflix and Hulu (Netflix streams movies and older seasons of shows from the beginning to the last season that was on TV, current seasons aren't available and Hulu has mainly current season shows with some movies and some complete series).
While I was pregnant, we were going through some financial problems and I kept saying we were going to cancel our cable put kept pushing it off. Finally, about a week before Lily was born I cancelled it and we're never looking back.
There is a ton of kids shows on Netflix(they just recently stopped streaming Nick jr. shows but have made up for it with Disney shows) and they have tons of seasons of shows and movies for adults.
Hulu is mainly for the current season of shows. You can watch them the say after hey air. And during the summer time you can put your subscription on hold and not be charged because there is no new episodes on.
Hulu doesn't have all of the network shows but most of the network websites have them online for free the next day too!
Save Money Streaming Movies
You do need a credit card to sign up but you can always use one of your prepaid credit cards! You can cancel at anytime by just going into your account settings!
Plus did you know that you can get paid for watching TV? Yes it is true and a great way to earn some extra cash – find out how here
Everyday for the month of October we are sharing a different way to save money. Each of these ways can help you save over $100 each per year! See the rest of the 31 Ways to Save $100 or More Per Year posts here. Using these ways to, you can save $100 in 31 different ways and you have a savings of $3100.00 in a year (if not more!)!
Check out these other Money Saving Ideas:
If you are looking for fun to do with the kids, be sure to check out the
Regal Summer Movies
! You will get to see movies for just $1 per person!
Join the newsletter
Subscribe to get our latest content by email.