Last week I was e-mailed by Peeps about getting samples to try out and share with all of you some ideas to use them for Easter (you know other then sticking them in the freezer and then eating them head first so they don't cry) and when the box got here I was not expecting that many Peeps… I am totally set for a long time   till my mom comes to visit 😉 My mom is a Peeps addict so the first thing I did was send her a photo and got the response that "they were sent to the wrong address" Don't worry Mom I set some aside for you!
The next thing was keeping Tom away from them and getting enough put away that I could do some creative things with them, since he was home when the box arrived. I was a nice wife/mommy and kept a few things out for them to snack on 🙂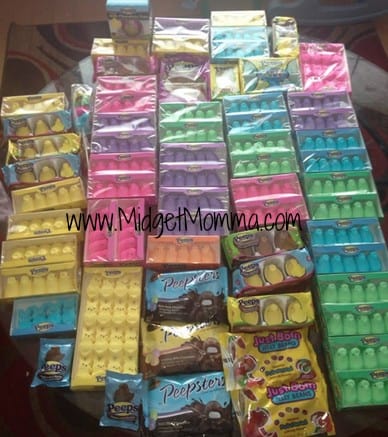 Recently you have seen a few things that we have done with Peeps
And so what do you do with that many Peeps? You plan all these fun things in you head and now I have ideas running through my head on what I am going to do to get some more Peeps fun so be on the look out for more Peeps Fun coming soon!!
Disclaimer: I was provided Peeps to share information with you. All opinions are 100% my own.