Here is a list of the current Survey companies that are accepting new members! Many MidgetMomma Readers earn extra cash by working with survey companies. Many companies also send out products to test out and then you get to keep the FREE products and get PAID to test them!! Remember when signing up for the companies to confirm your email address. If you do not confirm it you will not get offers.
Mindfield – Along with Surveys they also you product testing opportunities as well and right now they have one for toilet paper  Who couldn't use some free toilet paper What is really great about Mindfield is the pay out is really low, you only need $5 to cash out  Once you hit $5 just request your check and within a week it will be processed and mailed to you
Opinion Outpost is another favorite of MidgetMomma Readers. They send Survey opportunities along with product testing opportunities. Rewards include get cash, Amazon gift cards, game points, donations to your favorite charities, and more. Everyone is also automatically entered to a $10,000 sweepstakes by joining and taking surveys.
Sign up for Opinion Outpost here
I have been doing surveys with Pinecone Research since 2008 and I love them! I have cut back doing them for lack of time (time in general) and wish I hadn't because the surveys they send are simple and do not take very long.They also send you products to try as well, we tried a new fruit snack a while ago and then filled out a quick question and answer form of my thoughts and then with in 2 weeks I had my check in the mail!
Sign up for PineCone Research here
My Survey  is another great one.They pay up to $10 for taking surveys and they send you cash in the mail with your survey to take! Super easy since you are paid when the survey comes and then you just mail the survey back to them!
Are you the primary shopper for your house? If so then you will want to check out Springboard America – A survey company that is currently looking for people to take surveys and they are looking for people who use coupons and are the main shoppers of their households. I am sure we have a lot of people who use coupons here 

Just head on over here to sign up – then if you qualify you will get an e-mail from them letting you know that you do. Make sure you confirm your e-mail address in the e-mail they send you so you get notifications of surveys that are open for you!
If you are looking for another Survey company to join check out Survey Savvy! They are another great company to get signed up with to get paid to test out products. As you can see Reader Justine got paid $20 to test out Soda!!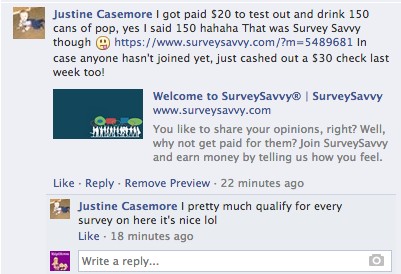 Head on over here to sign up!
Valued Opinions is a great way for the consumer to test out new products and give their opinion (and earn a few bucks for doing so). Right now they are looking for people to test a well known toy brand companies toys!!
Once you earn your points you get to cash them in for rewards like Amazon Gift Cards and other retail store gift card which is a great way to get "fun money" 

Sign up for Valued Opinions here
Right now Global Test Market is looking for new panel members to take surveys. Spaces are limited to sign up for Global Test Market while you can. They will send you a confirmation e-mail so make sure you confirm your spot
 sign up for Global Test Market
Ipsos- I Say –  They are a survey company that many MidgetMomma Readers have said they enjoy doing surveys with. They pay cash for surveys and at times send cash along with products to try out!!