Recently I was asked if I wanted to test out a GelPro Mat for my kitchen. If you have been here for a while you know that I take the easy way out when it comes to all things cleaning related. I have a dishwasher because hand washing dishes is not my thing, ok so I may also pay my kids just so I don't have to do the dishes because I really don't like doing them either but when I cook I end up with a lot of dishes so they need to be done. I have a Dyson vacuum because I can suck up anything and not worry about breaking it (although Tom has lifted the ban on me vacuuming I do have a warning already on how many times he is going to unclog it before banning me again). So a Gel Mat in my kitchen that goes on the floor by your sink for when you hand wash dishes, I am sure you all know that I knew I wasn't going to be using it 😉
It arrived and I told Tom "Look you have a new toy for when you hand wash dishes, now your feet won't hurt when I use 100 dishes when cooking a meal and they need to be cleaned". I am pretty sure he was not as excited as I was because that meant I could not feel as bad having 100 dishes that needed to be cleaned when I made a meal.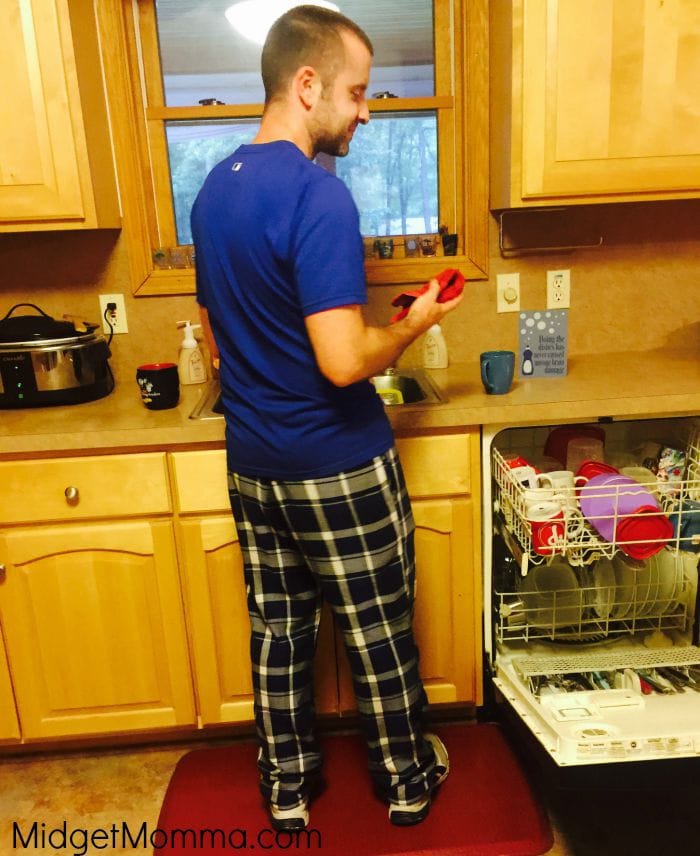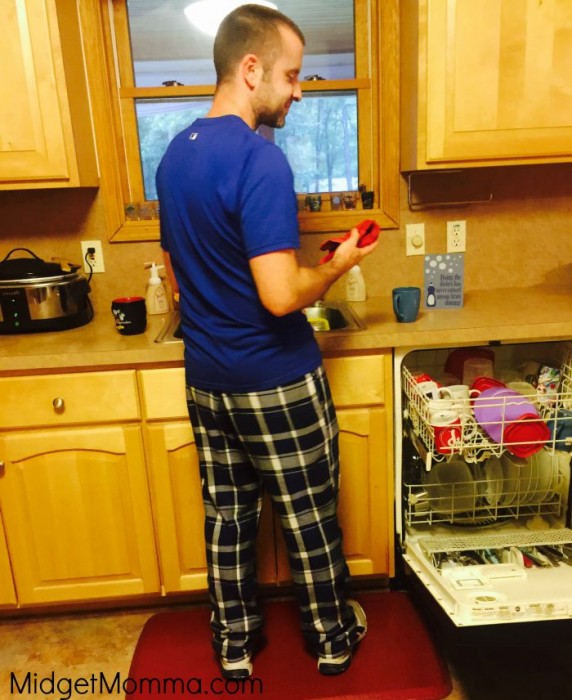 Well he has used it (of course since its right in front of the sink and next to the dish washer) and knowing that it is nice and comfortable for him to stand on vs the hard kitchen floor makes me not feel so bad 😉
The unique, conforming feel of gel plus energy-return foam actually feels so natural that you forget that you are standing. 50% thicker than the original GelPro Classic™ Comfort Mat, GelPro Elite features beveled, reinforced edges that will never curl or wear down and is backed with a 5-year warranty. This revolutionary comfort solution is constructed with a Dual Comfort Core of patented gel and energy-return foam not available in any other floor mat.
Another plus is that easy it is to clean your GelPro Elite Comfort Mat with its stain-resistant, durable top surface. A non-slip bottom keeps the mat securely in place and is actually certified by the National Floor Safety Institute. These mats can be used in the kitchen, bathroom, laundry room, craft room and any place you stand on hard flooring. Ultra-plush comfort isn't the only thing you'll love about this smart floor mat.
You will be able to get 20% off when you buy one too! Of course I am excited about this because you can enjoy the GelPro mat in your house and get a deal on it! Wahoo!!
Just go here and take the survey, it takes like 2 seconds to do and then you will get a 20% off coupon code!
They have lots of different colors and patterns to pick from too so you will be able to have it match just about any room you are wanting to put it in!