Ok so hear me out before you jump on me, and the hear me out as to why I am sharing this with you and then if you still want to jump on me… go for it 🙂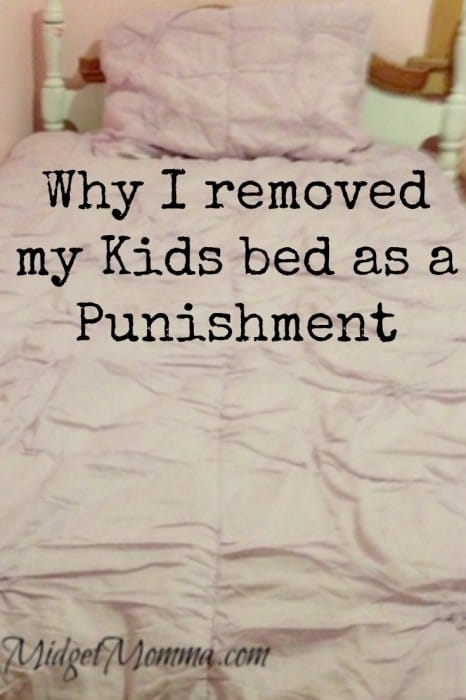 A few months ago Tom and I won a queen sized bed, our daughter begged us for our older queen sized bed when we told the kids we were getting a new bed. We gave her the rules that she needed to follow before agreeing to upgrading her from a twin bed to the queen bed. The house rules and that she act her age (she knew the specifics but for the sake of being online I am not going to give a detailed list, but it was not a long list, and not anything that is not age appropriate for her) were all she had to do and she could have our old bed when the new one arrived. (which the "old one" is about a year old so old doesn't even really fit there but, older I guess would be the right word). We also told her that in order to keep it (because it was important to her) that she needed to follow the rules set in place or we would move her back into a twin sized bed. Then when she decided to not act her age (rules that she knew and were age appropriate) and break the house rules we gave her 3 warnings, 4th time we took the queen bed (which was tonight)  out of her room and put her back into the twin sized bed. We had one VERY upset little girl over the move.  Then a family member telling us that we were being "to hard" and that it was a "bullshit punishment" steamed my post on facebook asking for your opinions.
Of course I went to the MidgetMomma facebook page to get opinions – which we all know you are all amazing and weather you agree with me or not you will tell me your opinion (one of the many reasons I love you all so much).
Well, after reading a handful of comments I wanted to share something that I think is important for us as parents and Moms to hear.
I am a tough parent IF you break my rules (which to be honest there are not that many, and many would say I am quite relaxed on many things and some of my punishments won't work for other kids) but I stick to my rules and I stick to my punishments.
HOWEVER there are times, when I as a parent am made to feel like I am messing up, like I am doing something wrong, like I am being to hard on my kids and the voice isn't coming from myself. I then begin to doubt myself, I begin to wonder if I was "being to hard". It takes someone else making a comment to remind me that I am the PARENT, I make the rules, I enforce the rules and what others have to say doesn't really matter. Sure they might not agree with me but they also do not live in my house and as long as what I am doing is not harming my children they should not comment at all.
Like tonight, I was reminded that the same punishment will not work for all kids. I have a few friends who think I am a tad bit crazy for this one, but if you are going to tell my the dinner I spent time making (and I know you like) sucks then you are getting a PB&J. There have also been times when I was going to make dinner and the kids wanted to fight, not stay out of the kitchen so I could cook and I have threatened to turn off the stove and feed them a PB&J instead. That makes them stop fighting and get out of my way quickly! While this won't work for all kids, for mine, it does.
They would much rather have, steak, sushi, baked chicken, ect (and many things that most kids turn their noses up at) then a PB&J so for them me threatening and following thru on it is a punishment. Really just the threat is enough to make them stop. It took 1 time of me following thru for them to not do it again, and if they are acting up in my kitchen while I am trying to cook that can be a dangerous situation.
I wanted to write this post because tonight I got the reminder that I needed from you all. The reminder that I am the parent, I know what is best for my kids. While it might seem crazy to move my kid from a queen bed to a twin bed as a punishment that it is one that worked. Just as for some kids taking the TV away or phone time away is what works for them.
We can not let ourselves doubt our parenting. We are the ones in the house day in and day out parenting, teaching our kids, loving our kids. The end goal is to raise them to be well mannered, well rounded people. What works in one house doesn't work in every house. We need to go with our guts and not let outsiders, friends or family members make us feel bad for it.
We need to stand our ground when it comes to our kids, to give them the best shot as adults in this world when the leave our house and go on their own life adventure.
So thank you, to all of you, for reminding me tonight that I am the MOM, and I know what is best for my kids. I hope that anyone who is in the situation of doubting themselves on if they are doing what is best as a parent, because outsiders are saying otherwise also remembers that parenting is NOT Easy. Being a mom is not easy, everyone will have their opinion on HOW you parent, but if you follow your gut, and if it is what works in your house then stick to it. If it is what teaches the kids to follow rules, to be respectful and even if it is an odd punishment like making PB&J for dinner, follow your gut. Stand your ground even when others are trying to make you feel bad for parenting the way that works for you and your household.
As parents we have it tough, people are not going to agree with us and our ways but as parents we know what is best for our kids, and we have to believe in ourselves.
Now anyone who wants to jump on me….. the floor is all yours 🙂
Ps. No I do not agree with beating a child, or hurting a child. But if video games are not the currency for your kids find what is their currency and what it is that will make them understand what you are trying to teach them and do to help them grow into the adults we aim for them to be.