You all know I am a K-cup lover and a few weeks ago I came to you asking what a good new flavor to try would be since I was running low on my beloved Pumpkin spice (and I am now out of 🙁 ) and it is a limited time only one and now I have to wait until next year to get some more! This is a lesson to me to stock up while I can next fall! 😉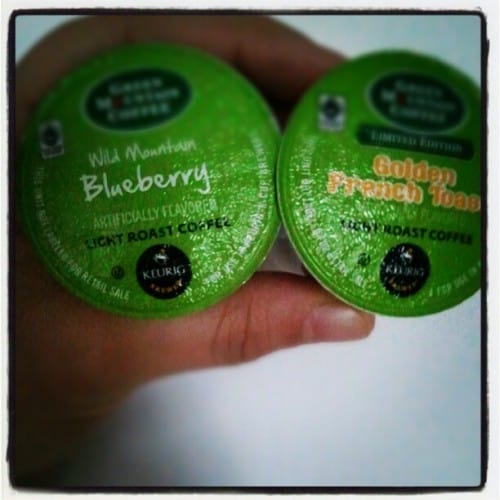 The top two were Green Mountain Wild Mountain Blueberry and Green Mountain Golden French Toast. So I took your advice and got some of each to try! You guys totally have me all smiles in the morning and while I miss my pumpkin in the morning I am REALLY enjoying these two flavors! Only problem is picking out which flavor I want to have first 😉
At first I was a little hesitant about blueberry flavored coffee but if you have not had it yet, you really must try it! It smells amazing when brewing, I can smell it upstairs as I brew it and get dressed for the day! I add a little bit of milk and 2 packets of sweetener and YUMMY! A nice blueberry flavor that is not to sweet or to fruity!
And the Golden French Toast, you totally have helped me hit my sweet spot with this one! I am a milk and creamer lover when it comes to my coffee but this one I can just add 2 packs of sweetener and enjoy!
I am sure I will be asking you all again soon for more of your favorite flavors since the French toast one is also a limited edition, but I am going to be stocking up on it so I don't miss it like I do my pumpkin spice!
What is your favorite K-Cup flavor that I should add to my list of MUST tries?
Disclaimer: I was provided the coffee k-cups to sample from Cross Country Cafe, no compensation was received and all opinions are 100% my own.
This post may contain affiliate links. Please read my disclosure policy here