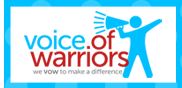 I will be on the radio tonight as a guest speaker on the Voice Of Warriors Radio Show!!! Aside from running Luxury Living Frugal Style  I am also the discount Guru for Homefront United Network, a site for Military Spouses, family members, services members to all unite together to support each other. There are many different articles that you can read filled with useful information for anyone who is associated with the military. Being the discount Guru for Homefront United I share the deals that I find that are just for the military.
I do not know if you all know or not that my husband was in the Air Force for 5 years he is currently on Medical Retirement, but as a military spouse there are challenges and having a place to go where you can talk to other Military members who are dealing with the same feelings, emotions and thoughts is a huge help. You can check out the Home Front United Facebook Page to keep up to date when new articles are posted.
You can listen in to the radio show via this link and I will be on at 8:15 PM EST and I will "see" you then!!
Join the newsletter
Subscribe to get our latest content by email.
This post may contain affiliate links. Please read my disclosure policy here