Here is another awesome sneak peek of the Planes Fire and Rescue Movie. When I was in LA I had the chance to sit down with Paul Gerard & Jeff Howard and get even more inside scoop for you! As I am sure you all have realized with Disney movies is they get things right, they get the words right, they get the places right, they make sure that things are politically correct when talking. When you watch Planes Fire and Rescue you will get to learn as you watch the movie because they put so much research into making sure it was right that you do learn while having an enjoyable movie.
Enjoy!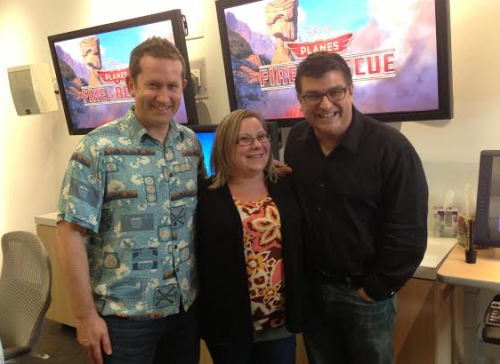 They had hands on learning when it came to making this movie and while we were in LA we ate lunch at the94th air squadron, which was one of the places they all ate at when doing their research for this movie. 
JEFF :    So you guys went out to, LA County this morning? Yes? We went out there and we had lunch at 94th air squadron. I think that might have been where we had, like, our first lunch when we were brainstorming.

PAUL :    Very early on.

JEFF :    Like, "Let's go out there and just sit and look at the airplanes and talk about what we want to make," for the first Planes movie.

PAUL :    Yeah. When you're in the parking lot, just to the end of the parking lot

JEFF :    Did they have both the super scoopers and the helicopter there?Okay, good. We weren't sure if they were gonna have the helicopter there, too, 'cause those were basically the two things that we saw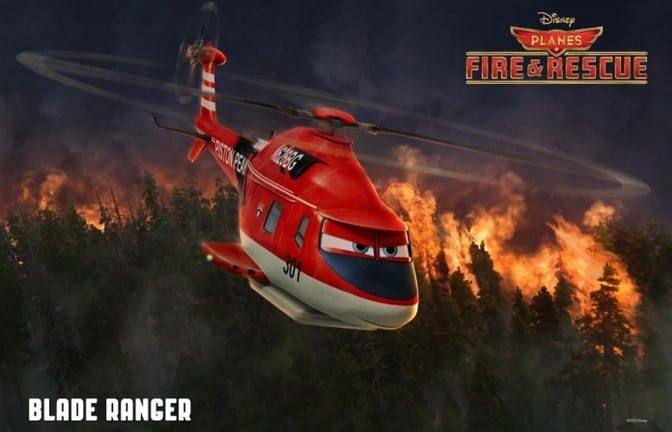 When Disney makes a movie they don't just half hearted go into it, they make sure they are telling the truth in their stories, they make sure their information is correct and that when they are talking about a topic they are using the right words and sayings. In order to do this they do a lot of research to make sure they are getting it right!
PAUL :    John Lassiter, our executive producer, believes in this idea, Truth in Materials, which is, uh, uh, you know. We can find not only character, but story, but the grounding of our movie in our research. Because we have a huge conceit going on, which is that airplanes talk and have eyeballs, so everything else around that should be as grounded in reality as possible.

JEFF :    Right. So we went out and talked to dozens of aerial firefighters and ground crew and smoke jumpers and air traffic controllers, and, uh, visited several national parks to try to get all of the details of the movie right.

PAUL :    And one of our biggest resources was the California Department of Forestry and Fire Protection, which, to their friends, are known as Cal Fire, which is why we are required to still call them the California Department of Forestry and Fire Protection, and everyone who's ever heard that joke before never, ever goes over. It never — [OVERLAP] I know. It doesn't. It just doesn't work.
JEFF :    Yeah, so, one of the things that was interesting to us when we went out and visited Hemet Ryan was that all of our aircraft had a previous life. The S2, which is their main tanker, which is the one Bob is standing in front of us, used to a sub-hunting aircraft. The Huey, in the — in the upper right, goes back to Vietnam. The OB10 Bronco in the upper left was a reconnaissance airplane. So, this whole theme of second chances started to sort of gel in our heads, that all of the aircraft are really on their second lives.

PAUL :    And they also let us check out the retardant or slurry that they drop.
PAUL :    And, their personnel, were anything but hand-me-downs. Their personnel are the best of the best. You know. They are all well-trained firefighters, as well as amazing pilots. In fact, this gentleman over here, um, here's Travis, and this guy sitting next to Jeff actually was the pilot of Marine One which was the president's helicopter, and, uh — before he came to Cal Fire. And, if you think about it, you have to hold position, you know, hold either bandy bucket or hold directly over the hoist to rescue somebody.

JEFF :    The hoist. Rescue basket.

PAUL :    And to hover in those conditions where you have thermals and updrafts, it's insane.

JEFF :    And you're in a canyon, and you don't want to drop the person, and, so, yeah, it requires a high degree of skill. Um, and so we talked to them about their terminology, their tactics, how they identify the different parts of the fire. They sort of, you know, diagram, "Here's what the airspace looks like, and who is at what altitude, and when they're, you know, clearing people in and what the different parts of the fire are, and how they maneuver in this crowded airspace. Um, who coordinates everything." Ironically, it's Travis in the smallest aircraft they have. He fits into it, somehow, um, and that's all reflected in the commands that Blade gives to Dusty.So, you know, there is — things like, when he says, um, we would ask Travis, "Okay, if you're gonna tell somebody, 'Drop it a little bit more over there,' you know, how do you say that in pilot-ese? What would you say?" And he'd say, "Oh, I'd say, 'Come left one wingspan on your next drop.'" So I'd say, "Okay, that's easy for me as a writer. I can just put that straight into the script." And I'm like, "Okay, but what if somebody gets it dead on, and it's the perfect drop, and no adjustments necessary," and he just sort of paused. And the other pilots around the table were just sort of looking at their shoes, and he's like, "There's no such term for that."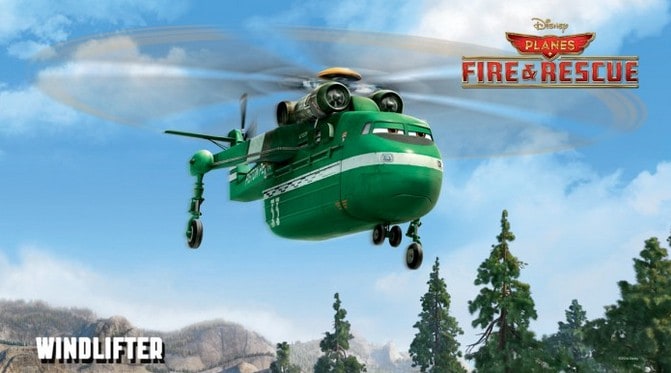 Forest Fires are an important thing to stay on top of, we learned just how many there are each year! We all hear about the big ones on the news but there are so many more that we do not hear about. 
PAUL :    Guess how many fires Cal Fire fights in one year?

PAUL :    About 5,600. And, in fact —

JEFF :    Just in California. It's actually 50,000, nationwide

PAUL :    Yeah. That's just California, and this year is actually a banner year for fires. They were on track, last time we talked to them, for like, 6,500 this year. And, the public only hears about the big fires, which actually became a line in the movie, when we were talking — first presenting our pitch to the different directors here.

PAUL :    One of our directors is like, "Well, isn't that convenient? He arrives at the Air Attack Base, and they happen to be going out on a fire?" And the reality is that's the way it is.
 Their research and experiences actually became parts in the movie too!
JEFF :    So, that became a line, and went straight into the movie. That you know, we almost had Dusty ask the very question that our other director asked when he gets there, and they get an alarm, and Dusty says, "Really, there's a fire already" and Dipper answers back, "Yeah, you guys only hear about the big ones," which is literally what they told us. We're like, that's a great detail, we gotta put that straight into the story.
Parts of the movie are based of real places in our own world, like the national park in the movie 
PAUL :    And since our big location for most of the movie is Pacific National Park, which is really a an amalgamation of all of the big national parks in the country, we decided to visit two of the most famous in the United States. Yellowstone and Yosemite, which were amazing. Our fuselage is really inspired by the Old Faithful Inn, uh, which is at Yellowstone.I don't know if you've ever been there, but I'd recommend it, highly. They let us go all of the way up into the rooftop of the  Old Faithful Inn, which was actually enclosed, since they'd had an earthquake in 1959. And we got to crawl up into the crow's nest, which they said was just a little bit dangerous. It's unstable, since the earthquake, but they let us go.
JEFF :    And they even let us up onto the roof to see the sprinkler systems. So, you know, in the movie there is  the lodge has this whole sprinkler system that Cad activates, and the sprinkler system at Yellowstone actually saved the lodge in 1988, when they had had a huge, um, forest fire. I think they'd only put in the sprinkler system the year before.

PAUL :    And the landscape also inspired the design for the movie. This is actually, you know, really, the inspiration for Fogger and Canyon in White Wall Falls, although we actually put a bridge in the background.
Inspiration from the movie comes from many different things, even the smallest details are made to be perfect to show what they want in the movie. Not just the landscape or the big main parts but even things like busses.
PAUL :    Yellowstone, we saw these iconic tour buses that they'd had there since the 1920s that were the inspiration for Old Jammer. Because they actually called them jammers.

PAUL :    It's the drivers that are called jammers.

PAUL :    Yes. It's the drivers that are called jammers, because they had no synchro-rings. They had their all manual transmissions and they were going up and down the mountains, so they had to grind the gears, and they called them jammers.
JEFF :    And they also had structural firefighting. There's like, regular fire engines, they call them structural engines, because the aircraft fight the fire in the woods, and these guys protect the buildings, much like the character of Pulaski that you see in the movie. And we also saw some of their other equipment that inspired parts of the smoke jumpers, like the treads on Avalanche and Blackout's saw blade, although we realized later that theirs ironically was much more cartoony and ridiculous than ours was.

PAUL :    The lake was inspiration, their island isn't shaped like an anchor.
Plus check out this fun sneak peek video of some of the bonus content
If you enjoyed the first Planes movie then you are going to love Planes Fire and Rescue! You can purchase Planes Fire and Rescue here 
Plus I thought you all would enjoy these FUN number facts from the movie!
Planes: Fire & Rescue by the numbers! How many people worked on the movie? What's the number on Dusty's wing? How many voice sessions did the actors tackle? The answers are all here…
900!
"Making an animated movie like Planes: Fire & Rescue takes a lot of time and a lot of people," explains the movie's producer, Ferrell Barron. "In total, around 900 people worked on this movie, start to finish. That's a big, ambitious undertaking!"
4!
"Planes: Fire & Rescue is released a year after the first Planes movie, but it took much longer than a year to make," reveals director Bobs Gannaway. "I've been working on the movie for almost four years!"
1955!
"When we started to research ideas for the story of Planes: Fire & Rescue, we took a closer look at the background of crop duster planes like Dusty," explains Bobs Gannaway. "That's when we discovered that crop dusting planes have also been used for wildfire air attacks. The first operational air tanker was a repurposed crop duster, which made its first air drop on the Mendocino National Forest in 1955. Fighting fires is in Dusty's heritage!"
8!
The filmmakers took a ton of research trips during the making of the movie. "We took at least one trip to Yosemite National Park and one to Yellowstone," says the movie's art director, Toby Wilson. "We also took three trips to Hemet-Ryan Air Attack Base, two trips to Redding and one trip to Grass Valley. There were a lot of research trips, but a lot of other research was pulled from our own personal experiences, too."
912!
"We spent about two and a half years – or 912 days – on the research and development of the fire seen in the movie," explains Ferrell Barron. "There was a lot of preparation work to do before we got to the production process!"
7!
Look closely at Dusty Crophopper and you'll notice the number seven on the design of his body. "The number seven is often seen as a lucky number," reveals Toby Wilson. "It's also the favorite number of Klay Hall, the director of the first Planes movie."
4!
"Our recording sessions with the voice actors are always a lot of fun," chuckles Ferrell Barron. "Each session usually lasts for four hours, but some are much less than that. We don't want to strain the voices of our actors, so four hours is usually the maximum."
140!
In the story, Dusty Crophopper suffers a career-ending injury during race training in Propwash Junction. "As a racer, Dusty was running at about 140 percent of what he was designed to do," says the movie's flight supervisor, Jason McKinley. "This put his gearbox under tremendous stress, so he starts to fall in the middle of a flight. He's at the top of his career – visually, he's at the top of a loop – and he falls." Eek!
3!
The filmmakers met a graduating class of smokejumpers while they were researching the movie. This inspired one of the teams of fearless firefighting characters seen in the movie including Drip, Blackout, Avalanche, Dynamite and Pinecone. "The smokejumpers we met were strong, incredibly skilled young men and women – all in tip-top shape – who parachute in to fight fires on the ground," reveals Ferrell Barron. "We got to witness them gather their gear, get in uniform, strap on these enormous backpacks and board the aircraft – all in less than three minutes!"
2,000,000!
One of the many challenges that the filmmakers tackled during the making of the movie was the creation of Piston Peak National Park. "It was a huge challenge for the art team," admits Bobs Gannaway. "We had to capture a panoramic feel, since our planes don't really fly in straight lines. And we have more than two million trees in there!"
90!
Composer Mark Mancina created the melodic score of Planes: Fire & Rescue with a 90-piece orchestra. "There's a lot of orchestral percussion, French horn, strings and woodwinds," the musician reveals. "There is added texture from other types of instruments, but the heart of the score is an orchestra."
1,600!
There's a whole host of fun and friendly new characters in Planes: Fire & Rescue. An outgoing and spirited air tanker named Dipper [voiced by Modern Family actress Julie Bowen] is skilled at skimming lakes, scooping up more than 1,600 gallons of water to douse angry fires!
3!
Windlifter is a heavy-lift helicopter who can hoist dozens of trees or a huge tank of fire retardant. Three different helicopters inspired the design of Windlifter: a Sikorsky Skycrane, a Kamov KA-26 and a Mil MI-10.
72!
A loyal and trustworthy tour bus at Piston Peak National Park for 72 years, Ol' Jammer knows every trail, stream, rock and tree. This strong and seasoned bus is eager to share his vast knowledge of the park's history with the multitude of admiring daily visitors.
301!
"The Blade helicopter in Planes: Fire & Rescue has the number 301 on his side," explains Ferrell Barron. "We took that number from the side of a helicopter at CalFire [California Department of Forestry and Fire Protection] at Hemet-Ryan, which is where we did a lot of research for the movie. We did that as a tip of the hat to them."
2,000!
Pulaski is Piston Peak's structural engine, responsible for protecting the buildings and bridges in the park. With a 2,000-gallon tank, he can pump water at 1,000 gallons per minute. Whoosh!
64!
Look closely at Pulaski and you'll be able to spot the number 64 on his body. "I took my kids on a Disney research trip to my local fire station," explains Toby Wilson. "They got to climb all over the Redondo Beach Fire Engine No. 64 during their visit. Pulaski has the number 64 on his side as a thank you to them."
FAST NUMBER FACTS!
1872!
Piston Peak National Park was established in the year 1872.
12!
Piston Peak National Park measures 12 miles long and four miles wide. It's bigger than the Grand Canyon!
28!
What's the number seen on Dipper's body? 28.
139!
There were 139 episodes of CHOPs made… And Blazin' Blade was the star of the show.
50!
In the movie, Harvey and Winnie visit Piston Peak National Park to celebrate their 50th wedding anniversary. Bless!
Disclaimer: I was invited to an all expenses paid press trip with Disney. No compensation was received and all opinions are 100% my own.