Last month I had the great honor to sit down with the director of the movie Tomorrowland, Brad Bird. Brad bird was just finishing up the movie Mission Impossible when one of the Producers mentioned the Tomorrowland project. You can tell this movie just sparked so much into his head about what tomorrowland really meant for him. You can even see some of these hopes a dreams played out in the movie. I am so excited to be able to share some of his thoughts with you guys and give you a look into the interview I did with him, I hope you enjoy it as much as I am enjoying sharing it with you!

Where you Have Seen Brad Bird's Work:
Directed  "Mission: Ghost Protocol Bird
won Oscars® for writing and directing the Academy® Award winning Pixar Animation Studios films "Ratatouille" and "The Incredibles."
His feature directorial debut was in 1999 with the animated feature "The Iron Giant".
Began his first film, an animated short, at the age of 11 and finished it nearly three years later. The film brought him to the attention of Walt Disney Studios where, at age 14, he was mentored by Milt Kahl, one of a distinguished group of Disney's legendary animators known as the "Nine Old Men." Bird eventually worked as an animator at Disney and other studios.
Served as executive consultant on "The Simpsons" and "King of the Hill".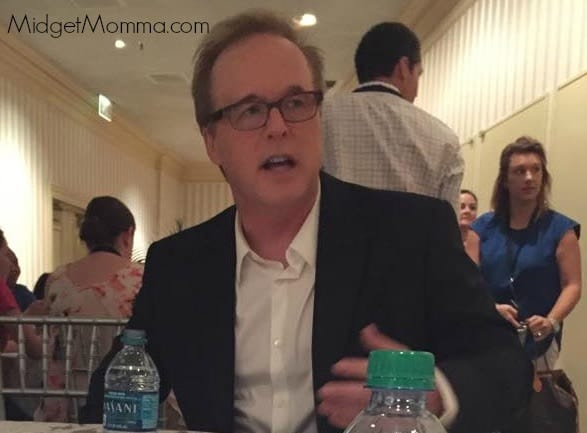 Exclusive Interview With Tomorrowland Movie Director, Brad Bird
Question:
This film is seemed like such a passion project for you. What was it about the story that made it so special for you? That it's almost a dream come true make it?
Brad Bird:
We started talking about how the conception of the future had changed since we were kids it was kinda' like a Jetson's mentality of like it's gonna' be fun. The future's gonna' be fun. We're gonna' solve hunger and we're gonna' get past all the problems with racism and you know every problem is gonna' be solved,  it's gonna' be a blast. And we're all gonna' have jet packs. So we were just going, "When did that change and why did it change?" 'Cause it's not that now. If you talk about the future and you wanna' be taken seriously it's an apocalyptic wasteland where we're all gonna' die.
Question:
There's so many characters in the film that have these big dreams that they hope to make a reality. What's one dream that you haven't accomplished that you would love to make a reality?
Brad Bird:
My vision is relatively small. I just hope to tell a number of stories and I hope to tell different kinds of movies. And I want showmanship to be brought back into movies and have movies not in tiny little cracker box theaters. But big theaters that, that have great sound and there's some presentation to it. I'm really happy to hear that Quentin Tarantino's new movie was, not only shot in 70mm but that it has an overture in it, intermission and it's like, "Yeah! Let's make that again." So I have a number of projects that I wanna' do.
Question: 
Can you talk a little more about bringing back showmanship?
Brad Bird:
Well it's another thing that I think kind of got widdled away slowly. I think that we took away a lot of the movie palaces in, in the 90's and built a lot of multiplexes. There's nothing wrong with multiplexes. There's some nice ones, but they tend to be kind of anonymous. When I was little each theater had a very different vibe. It was as distinct as, describing different restaurants and you know we had the theaters in my town. We had one that was a tiny little theater that kinda' had an art deco feel to it and a room where people could bring their kids and the kids could cry and they you didn't hear them. There was a little tiny theater but it showed all the art films, and all the weird you know foreign films, and scary things like Exorcist and controversial films. That was kind of the college place. And then there was the, the more old school theater with a balcony and a bigger screen and stereo sound when no one had stereo sound and, and that was for the Oscar winners so you know. The ones that would go on to win the Oscar. And then there was the smaller one that was kind of everything in between. So each theater had its own identity and that was a wonderful thing to have and it's a shame to lose. I would hope that in the future that we can make these buildings a little more distinctive and have it built around presenting movies in the grand fashion you know. That they're special you know.
You can check out this behind scenese clip, that I think is great!
Tomorrowland is going to be released onto DVD on October 13th. You can pre-order your digital download with Disney Anywhere App now or you can preorder it on Amazon. If you haven't heard of the Disney Anywhere App check out here to learn all about it.
Disclaimer: I was invited on an All expenses paid trip with Disney. No compensation was received and all opinions are 100% my own.