With an older sister and a younger sister my son is out numbered and even more so our house is out numbered by "girl" toys then "boy" toys. While he enjoys playing house and barbies with his sisters there are days I can tell he would really like more "boy" toys.
When the box arrived filled with Iron Man toys Little Man was so excited! He played for over an hour with the Giant Iron Man action Figure. He played with it, came out of the playroom to show me what Iron Man could do and then went back to playing. He has played with Iron Man everyday since it arrived. My 5 year old daughter sometimes gets a itch to play with it to but thankfully it doesn't last to long because my son really loves this! He brought it with him to preschool for Show and Tell and then refused to show it and when I asked him why he did not show his friends his Iron Man he said "Because Iron Man is too cool for that Mommy". (I wish I had known exactly how much he liked Iron Man)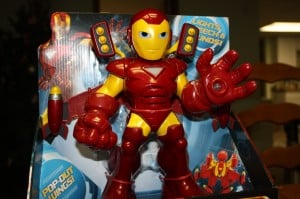 We also got the Iron Man 3-in-1 Repulsor and the Iron Man Arc light, the kids have been enjoying this chasing after each other pretending to be Iron Man. It is awesome to see my son so excited about Iron Man toys, he talks about them all the time and he enjoys chasing Princess Pretty Pants around the house, and he is nice enough to share his "boy" toys with her.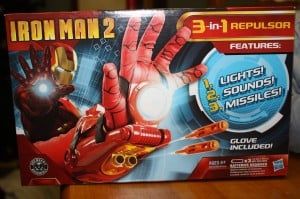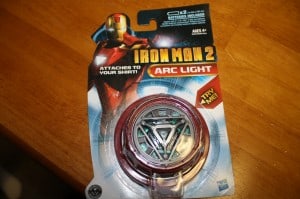 We have a ton of noise making toys in this house, and one thing I really like about the noise level on these is they are the perfect level, loud enough for the kids to hear it even while they are talking loudly to each other but not to loud where I want them to go outside with it!:)
I am going to be going on the hunt for the mask for Little Man because he says "he can't be Iron Man with out the Mask" 🙂
Disclaimer: I was provided this product free of charge to facilitate my review, I was not compensated for this review, all opinions are honest and my own.
This post may contain affiliate links. Please read my disclosure policy here