In a few we will be gearing up to go back to school and it will be back to the grind of packing lunches everyday, however the past 2 weeks the kids have been at day camp and I have been packing their lunches. Summer time lunch packing is different then school lunch packing. First it is HOT so I have to make sure the kids have foods like fruit and applesauce that will not add extra heat to them and that are not heavy foods because they end up not eating them.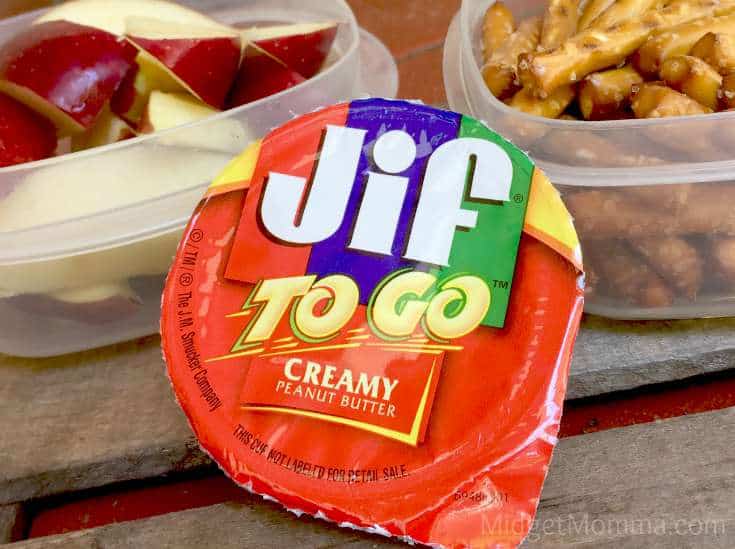 With day camp they have 4 different classes that they go to, so there is no designated lunch time and the kids eat when they are hungry. This means that they are sometimes eating on the go in the classroom or in between classes. Things like apples and  pretzels have been a big hit in the lunch boxes. I was contacted by Jif to test out the individually sized 1.5oz Jif To Go cups , and we found that they are great for dipping all of fruits and vegetables, anytime, anywhere. They are available in convenient 3 or 8 count packages, and they are the perfect size for putting in the lunch box! Jif To Go is a great snack to keep you moving throughout the day, add a baggie of things the kids can dip and you have some happy kiddos! They go great with the on the go eating the kiddos are doing at summer camp!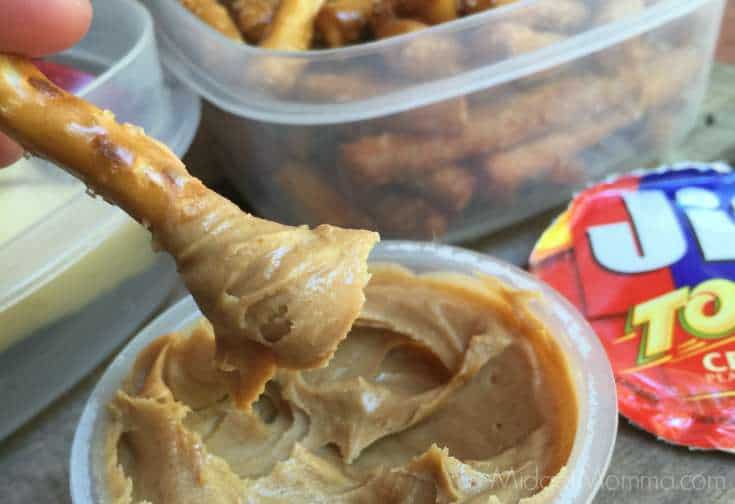 We have about a month left of summer and the kids are just about done with summer camp and so we will be heading out on some fun adventures like hiking, going to the local waterfalls, a trip to Long Beach Island and a few other things and snacks are much needed on our day trips! We will be bringing Jif To Go cups along with our celery, apples and pretzels so we are making sure we eat healthy snacks! I am so glad that peanut butter does not affect my stomach and I can eat it with out worrying about my tummy issues acting up! So it is an even bigger win, tasty healthy snack and I know it won't ruin the day by making me sick!
And as you can see by Tom's hand in the photo, even he can't wait to dig in! Trying to photograph the Jif To Go cups and fighting off a hungry hubby is just a taste of what I deal with when there is peanut butter around!
With 5 different flavors we can also add some variety to our snacking, however there is not much that tastes better then a pretzel dipped in the Chocolate Peanut butter, well unless you are my son he says everyone needs to have celery with peanut butter and raisins (gotta have the Ants on a log!)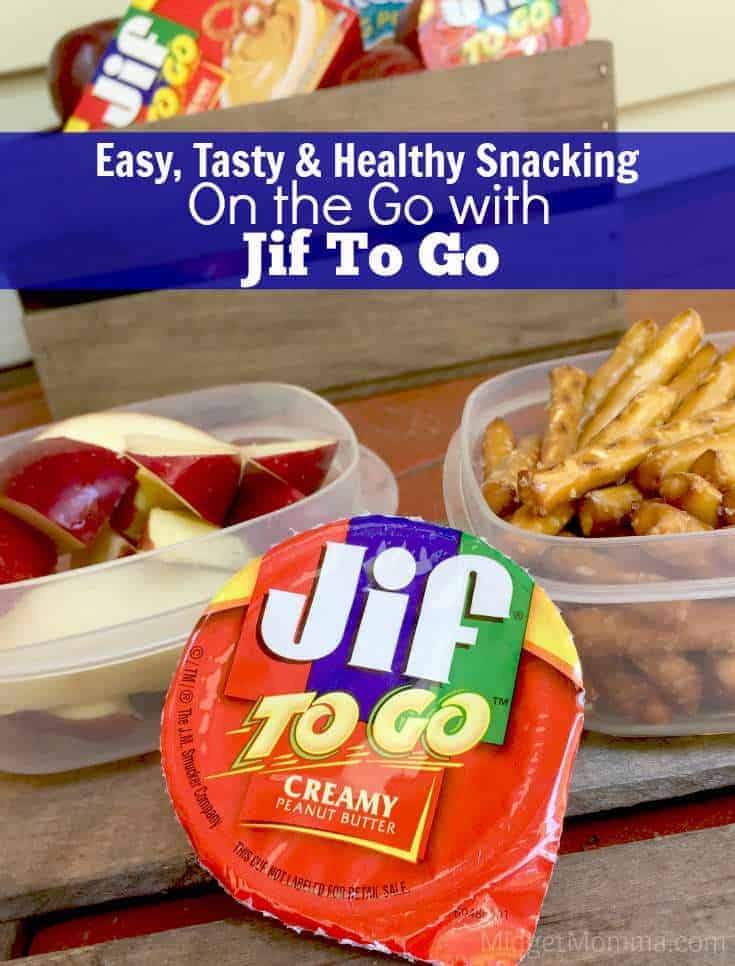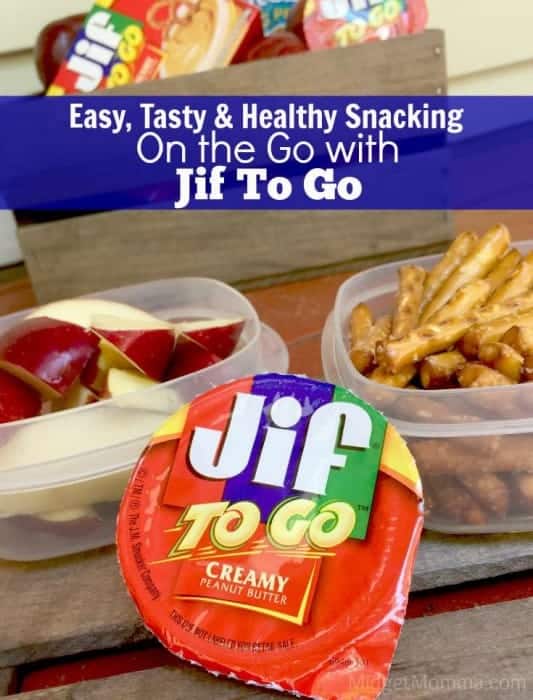 Jif To Go just launched its new Halftime Heroes Photo Promotion as part its sponsorship of the 2015 "Kick It" Tour, the world's largest 3v3 soccer tournament. Through August 9, 2015, Jif is encouraging families attending tournaments to share a picture of how they "get going" as part #JifToGo Halftime Heroes Photo Promotion. You can find locations near you here to join in on the fun!
Plus as part of the promotion, Jif will make a $1 donation to the Boys & Girls Clubs of every entry using the hashtags, up to $25,000. I love it when companies do things to help others!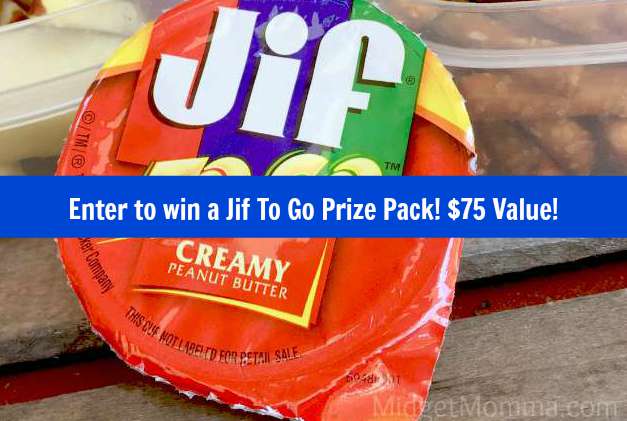 JIF Prize Pack Giveaway:
The Prize: 
JIF-branded sport bag, JIF-branded soccer ball, JIF-branded water bottle, assortment of JIF To Go products Value: $75
To Enter just leave a comment for each thing you do, if you are already following on facebook, twitter ect those count to, just leave a comment saying so

How to Enter:
Sign up for my daily newsletter so you never miss anything
Leave a comment on what you think about the Jif to Go packs
Extra Entries:
Follow me on Pinterest – 1 entry
Pin any of my recipes here  to pinterest – 1 entry per pin
Leave a thoughtful comment on this post – 1 entry
Make me your personal shopper (FREE to join) – 1 entry
 Tweet- I entered to #Win Jif to Go Prize Pack! $75 Value! You can too! #JifToGo https://goo.gl/eqZsZr @MidgetMomma1200 #MidgetMomma – 5 entries daily tweets must be 2 hours apart
Follow Tom on Twitter – 1 entry
Follow Lauren on Instagram – 1 entry
Follow Tom on Instagram – 1 entry
Follow MidgetMomma on Facebook – 1 entry
Giveaway Rules:
No purchase necessary to enter, leave a separate comment for each entry method. This giveaway is not associated with any of the entry methods. This giveaway will run till 11:59 PM EST, July 30, 2015. The winner(s) will be picked using And the winner is (a random winner picker) and will be announced in a new blog post. Giveaway is open to US residents who are 18 years or older. By entering this giveaway you are giving consent to be added to the MidgetMomma daily newsletter. Winner will be contacted and have 48 hours to reply to contact e-mail or the prize is forfeited. Prizing provided by the sponsor.
Disclaimer: This post is in partnership with Mom It Forward and Jif Peanut Butter. All opinions are 100% my own.