It is time to go on a fun adventure with a new Netflix Original series! I love Netflix and I love the original series shows they have and I was excited about this newest one! Ok so this adventure might be for the kiddos but it is one that they are going to LOVE! For me as a Mom when I find shows for my kids to watch I want them to be fun for the kids but I also want them to line up with my thinking of being a kid. I love finding new shows for Alyssa to watch that talk about using her imagination and then it shows her that using her imagination when she plays is a good thing. Shows that encourage her to use her imagination are ones that I aim for her to watch and this newest show, she enjoys and it encourages her to use her imagination!
Kazoops!, A fun filled animated series that combines adventure, music and fun is coming soon to Netflix! Actually it hits Netflix for the US and Canada today September 2nd! Geared for the kids ages 3-6 this new show has some really awesome music. I couldn't help myself but to get into the music and then I looked over and saw Alyssa couldn't help herself either!
This animated series follows the adventures of six-year- old Monty and his best friend, Jimmy Jones, the family pet pig. Monty uses his vivid imagination to challenge preconceptions about life such as "you have to wear matching socks" or "all games need rules" and, in doing so, demonstrates the value of critical thinking and creative play.
Each imaginary adventure is accompanied by a unique song that tells the story and guides us on the journey with Monty and Jimmy Jones. The songs are vibrant, cool and fun with a variety of styles that will make you want to dance, laugh and sing. The words are really important too because they tell us about the new perspectives Monty discovers along the way.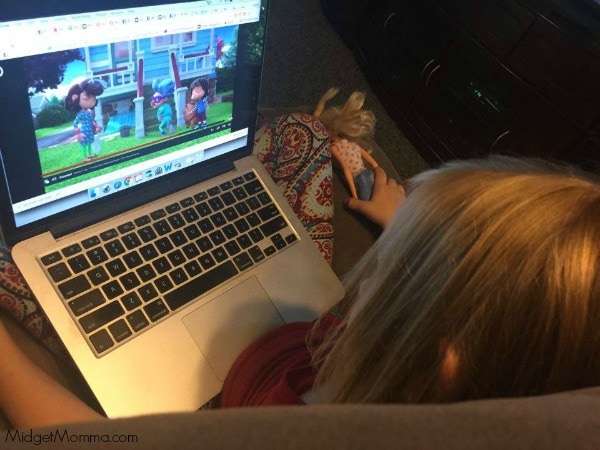 What Alyssa Thinks about Kazoops:
The episode the car broke so the little boy said we can have fun in the backyard. So they had fun in the backyard and pretended it was the beach. I liked watching the episode because the little boy made the beach in his backyard. The pig, Jimmy Jones is a cute pig and I like watching him play.
The show is about Monty's unique take on things, as he challenges accepted wisdom and shapes the world around him. His imaginative adventures are hugely fun and his discoveries always surprising. Which as a Mom I love! I love when my kids think out of the box, and Monty does it in every episode and it shows Alyssa that thinking out of the box is a good thing to do!
Make sure you check out the fun trailer that gives a great sneak peek in to this awesome series that is on Netflix Now!
Disclaimer: I am a Kazoops Blogger Ambassador. This post is part of a sponsored campaign. I received compensation for my participation, but my review and opinions are my own.