As much as we do not like to talk about how there are dangers in the world it is something that we do need to think about. I have 3 kids and while they are still young and do not go anywhere with out an adult, there will be a time when I do have to let go and let them have some freedom and venture out and do things with out me or another adult there(which thankfully is about 20 years from now that I will allow that LOL). But in all seriousness that is something that even though my oldest is 6 I still think about and scares me for when that day will come. My kids have only ever been with family or very close friends other then being with my husband and myself with the exception of school(which my son goes to our church's pre school and my daughter is at the local elementary school, where they keep close tabs on the kids).
As technology continues to advance cell phones are now a part of everyday life, and at times they can be seen as a bad thing (you know when kids think it is ok to text message during class) but I look` at them as a positive. When I was a teen I had a prepaid cell phone(and that wasn't until my senior year) but before I had that had an emergency come up there was nothing I could do but rely on the help of someone who happened to pass by, which you never know if that person will come by to help. I know many of us have probably experienced car trouble before the time of everyone having a cell phone and you had to stand by your car and flag someone down, walk to find help or a pay phone(which are now almost non existent) but when those options are not avaliable or close by to use it could become a completely different situation.
SafeKidZone is a phone app for your cell Phone(it works with all cell phones), well I should say for your kid's cell phone. It gives them the technology at their finger tips to call for help should they need it, help is contacted and with out leaving you in the dark since you too are alerted if they use the panic button.
It is easy to use:
1-Sign up for SafeKidZone, they have 2 options 1 is free but the one that will give you every option is only $9.95 a month and because you are all fans you get a FREE 15 day trial when you use the code MIDMOM to sign up!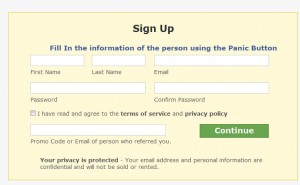 2-Fill out your information and your child's information in your Safe Kids Zone account. The information includes:
Your child's name(or who ever's phone the app will be on)
Descriptive information like age, height and gender including a recent picture
Your Security Network-who all will be contacted if the panic button is hit
Danger and Safe Zones- These are areas where you as the parent can designate, for instance a teen is learning to drive and they get lost and are near an area that could be dangerous and they don't know it will alert that they are in that area and that it is an unsafe area for them to be in.
3-Download the App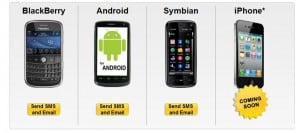 4-Put the app on an easy access spot on the phone You can see mine is on an easy to access page on my phone and all I have to do is click the app and the panic button pops right up!
5-If there is an emergency hit the app and then the Panic button!
You can check out this video below that will explain all of the features of the App.

You can also find more videos in your account that can guide you through any problems you may have with the set up or anything else. When I set mine up customer service was awesome they walked me through and told me all about each section and answered any questions that I had. You can tell just by talking to them that they made this app and program with the want of helping others and helping parents keep their kids safe.
I tested the app out myself by hitting the KidSafeZone app on my home page of my phone and then hitting the panic button, with in 20 seconds or so of hitting the button I received a call on my cell from the KidSafeZone line asking if I was ok, if they had the right location and if I needed help from police, fire or ambulance. When I told them no I was just testing it out, they were really great about it and said it is always important to test out that app when you are not in trouble. So do not worry about causing alarm when you download it and then test it, they will treat the call as an emergency until you tell them otherwise.
Many of you know that we lost power for a few days because of the Hurricane, and the same night that the power came back on (and I thank God that it did) my 20 month old had a febrile seizure which had me panicking as I was holding her as she had the seizure screaming at hubby to get the phone and call 911 to get an ambulance to the house. Well even with power the panic button would have made the situation much easier when getting a hold of 911 and here is why:
Our power had just been out for a few days and our home phones(we only have cordless) were still not charged from having no power so we were hoping that it would last long enough for the phone call
We live up a mountain and in the woods(its only about 15 minutes from town but its still in the woods) and there are no street lights, and when you use a GPS in out neighborhood it does not always bring you to the right location and we had to explain to the 911 dispatcher how to get to the house. Thankfully hubby was on the phone with them because I am not sure I would have given good directions at all.
Why it would have benefited us when we did not have power
What if the power had not come back on? Our home phones would have had no battery and our cell phones had very little battery but with the panic button you can use the text option for them to locate you and send help.  Texting takes very little battery power compared to making a phone call
We have no lights when we have no power but a cell phone still lights up and the app is easy to access.
So while this is designed to be for kids, I can see it being a great safety net for those of us who have kids. I asked my 6 year old if she knew what to do if there was an emergency and she said call 911, my 4 year old on the other hand (no matter how many times we tell him) said "I dunno" and then I showed them the app(since they know how to work the unlock feature of my phone) and I said if there is am emergency could you hit this button? And they both said yes. So while it is geared for those who are going to be at home it can be a useful resource for those who are home and are in the younger age range of children.