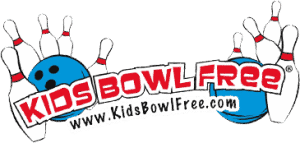 Keeping a budget during the summer can be tricky because sitting in the house all the time stinks and activities are more fun outside of the house sometimes and let's face it the kiddos want to get out of the house! Here is an AWESOME Freebie that you can use everyday and get out of the house with the Kiddos for FREE and go bowling. Yes you heard me say everyday!
So here is the inside scoop on it, Kids Bowl Free has teamed up with bowling allies around the country so that every single day this summer you can take your kids to your local participating bowling alley for FREE and they can play 2 games with no cost to you! This is valid for up to 6 kids per family 🙂
Now you might be saying well I love to bowl and would love to bowl with my kids, well for only $24.95 you can have up to 4 adults play 2 games each day during the summer too and the kids are FREE with their 2 free games each day already so for less then $25 for the whole summer You and the kids can have 2 games of bowling per day! How awesome is that?!? (The only costs is shoes but the place near me it is $1 for shoe rentals)
Find participating Bowling allies near you to plan your FREE Bowling!
Find more information about the program here 
Disclaimer: I was provided a Family Pass for sharing this information with you. As always opinions are 100% my own 🙂
Join the newsletter
Subscribe to get our latest content by email.
This post may contain affiliate links. Please read my disclosure policy here