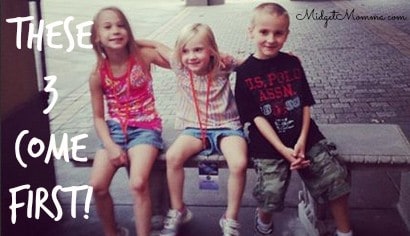 My husband is second string in my household to my kids. I get slack often for how I will disregard his thoughts at times and put my kids first and with the many articles floating around the internet about how husbands should come first then kids because kids need a stable relationship to have a god childhood, I just couldn't keep my mouth shut 🙂
Having kids means they come first, telling my kids no i am not going to play a game with them because Tom wants to have us time, or because Tom wants do something different then the kids doesn't happen in my house. Tom is second string to the kids for me and I am second string for the kids for him.
Our kids see that they are our priority, it is our job as parents to put THEM first, not ourselves and not each other! Our job once we became parents was to raise our children, teach them and raise them to be good kind hearted and respectful people and with that we lead by example. We put them first, not our selves and not each other. A day out with them comes before a date night for us, a fun trip for them comes before us going somewhere as a couple and their needs come first not ours.
We are a team when parenting and with everything in life you make sacrifices, parenting you take away your wants and needs to make sure you kids have what they want and need before your own. It is just a part of parenting!
When the kids are awake it is their time, they go to bed at night then it is us time. There is time that can be made for us time when the kids are not awake.
This isn't to say that we are spoiling our kids, that they do not learn to be patient and wait, heck there are 3 of them and 2 of us so obviously they have to learn how to wait, share and be patient but to IGNORE their needs for Toms (or in his case mine) NO WAY!
We get 18 years with our kids in our house, the younger years we get them all to ourselves, then they go off to school and then as teens they will not want mom and dad crowding their space and I refuse to give up those few years that I do have with them for ANYONE, my spouse included.
The arguments of putting your kids first is going to "You will have no relationship left, that not putting your husband first is not a healthy relationship, that is spoiling your kids" ect are crap in my opinion. If a man is a good man (which Tom is or he wouldn't still be here and a woman a good woman) he knows that when the kids are grown we will have more us time, he knows that the kids are only young once, he knows that in the end we have YEARS of us time compared to the time we have with our children in our home and wouldn't be so selfish to demand time with me. Just as I with him. The couple time is IMPORTANT, but does not take first to my kids needs. Plans with my kids don't get changed because Tom wants to do something. The time Tom and I have as couple time is our time and the time for the kids is kid time. This is not saying that there is no couple time, because there is it is needed but the couple time is not going to take place of the time, needs and wants of the kids.
A movie with my kids comes before a movie with Tom, a dinner date comes before a dinner date with Tom, the kids wants and needs come before Toms and my own. I don't cater to them, they are independent children who can do things on their own because we have taught them that, we have taught them patience, we have shown them that you make sacrifices.It is our JOB to protect them, raise them, care for them and put the FIRST before each other and our relationship. We have YEARS with each other compared to the time we have with our kids being young and living with us and enjoying them.
So No I will NEVER put my husband before my kids, just as I would NEVER think of him putting me ahead of my kids!
I am updating this to add the following because there has been some confusion:
1- Tom and I do not ignore our relationship, but the kids needs and wants come before ours. For example if Tom or I wants to snuggle on the couch to watch a movie and the kids ask to snuggle one of us, then the kids snuggle with the parent they have asked to snuggle with. It is not going to hurt our relationship to show our kids affection vs each other. It is not like at 16 years old our kids are going to want to snuggle us on the couch.
2- If Tom and I have planned a date night and then something that would be fun for the kids comes up and the budget only allows one of the things to happen then what would make the kids happy comes first. We can do date night at home after they go to bed just as easily.
3- My kids know the world does not revolve around them. There are 3 of them, I work from home full time and they are told they have to wait all the time. But if they want to have a sit down conversation with me when Tom and I are just talking about nothing in particular (with them being polite asking to talk to us of course) then yes we will tell them to let us finish what we were saying and then have a conversation with them. The time of just talking with no real topic can always be done at night after they are in bed.
4-  The comments that I will be lucky to be married after my kids leave our house, Tom and I are both on the same page and we make it a point to have us time just it doesn't get in the way of our kids time with the both of us.
5- Tom and I do not bend over backwards to jump when the other person asks for something. It is a time in our lives when we have both mutually decided when we had kids that giving them the best childhood we can is important to the both of us. Both of us laugh together, talk together, hang out together and have a relationship together but for us the kids come first, its our job to raise them, teach them and love them so they are respectful and knowledgable adults.
I am not saying my view is right, I am not saying those who put their husbands first are right. But to be told I am wrong because of how Tom and I do things, or to be told they know we will get a divorce is far stretched to say. I don't make comments about how other people's marriages are going to affect their children because they put their husband first. Tom and I are on an even playing field, we both clean house, take care of the kids work, cook and share ALL household responsibilities.
Update to this post – we have since added kiddo #4 to our house 🙂