I always wanted to have photos of my kids announcing that they were a "big sister" and "big brother" by wearing the shirts that say it, but with the older 3 kids I never got the chance to do it. With the arrival of Hannah coming I knew that I wanted to make it happen and had the chance to partner with Zazzle to get the kids awesome personalized sibling shirts from Zazzle!
When having a new sibling things can get a bit crazy and I think it is important to make sure that the older kids feel just as special in the announcing of a sibling. With Zazzle, I was able to make it so each one got their own shirt announcing their special place in the line up of being the older and younger siblings! And I have to say I think my kids look super cute wearing them, although I am also quite biased about my kiddos too 🙂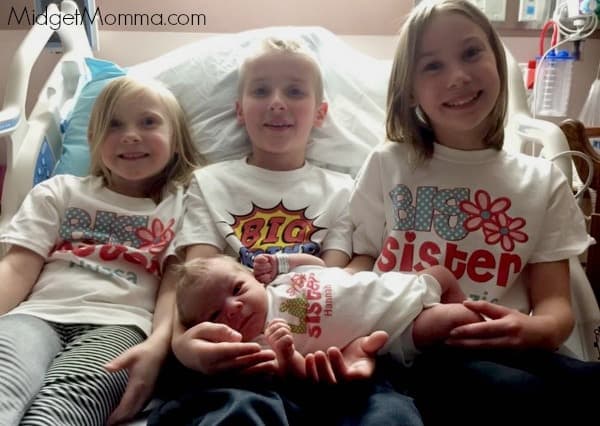 The older kids needed to have something special for the arrival of their baby sister, that showed off that they were the older sibling and the personalized shirts from Zazzle were perfect! The kids liked them so much that they have worn them just because even after we took the picture of them all wearing their shirts and announcing them 🙂
It was super easy to use the Zazzle website and create the shirts. I could have uploaded my own image for them to print on the shirts but they also have a huge selection of premade designs to pick from. With things being crazy I opted to use a premade design and then I was able to have them personalized with the kids names on them.
A challenge I thought I was going to run into was finding shirts that were not to childish looking for McKenzie and Logan because they are older. However I was easily able to find the girls exact matching shirts that were perfect for any age to wear and Logan one that was "cool" as he called it. You can have them put the design on shirts and onsies for babies so all the kiddos can have "their spot in line" on their shirts!
You can easily get a shirt ordered within just a few minutes, Zazzle makes it so easy! In a matter of about 15 minutes I had the shirts picked out and ordered! Easy peasy, which is much needed when you are a prego momma with other kiddos running around the house 😉
Disclaimer: This post is sponsored by Zazzle. All opinions are 100% my own.