Sweet! If you need bodysuits and sleepers for baby here is an awesome deal to snag at Kohl's. Right now they have a $10 off $30 coupon code, use coupon code GIGGLES10 and they have some really awesome sales going on too! Plus there are additional coupon codes you can use 🙂
Kohl's cardholders can use coupon code SPLURGE30  and get an additional 30% off (and this code can be used with the code GIGGLES10 mentioned above) AND the coupon code SEPTMVCto score FREE shipping too!!
If you are not a Kohl's cardholder use coupon code SAVINGS to get an additional 15% off your entire order or coupon code GREAT to save an additional 20% off your purchase of $100 or more Shipping is FREE on orders of $50 or more for non-cardholders!!


Deal Scenario for Carter's body suits:
Buy 5 Carter's Bodysuits @ $6 (Reg $12)
Use coupon codes GIGGLES10, SPLURGE30 and SEPTMVC, (Kohl's Cardholders)
total – $14 shipped just $2.80 each!
Buy 5 Carter's Bodysuits 
use coupon codes GIGGLES10 and SAVINGS (noncardholders)
pay just $17 + shipping
If you are a fan of the  Aden + Anais swaddling blankets you can score a great deal on the 4 packs too and get them for just $18 each, they are normally $34 each!! I have never used them but I have heard they are amazingly soft!
Deal Scenario:
Buy 1 4 pack at $34.99
Use coupon codes GIGGLES10, SPLURGE30 and SEPTMVC
Pay $17.49 shipped!!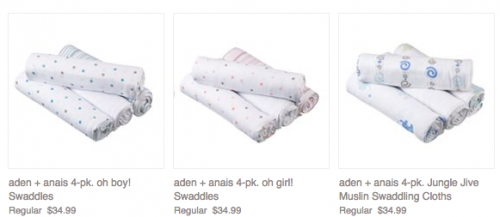 Thanks hip2save
This post may contain affiliate links. Please read my disclosure policy
here