My kids have been in love with the Disney Descendants movie since it aired to the point where I have lost count of how many times we have watched it. I am sure they would watch it daily if I would let them! They walk around the house belting out the songs and rocking out the dance moves from the movie and I am pretty sure at this point they know just about all of the words and scenes and could act them out as well.
With that the girls have been talking about the Kohl's Disney Descendants Clothing that we saw and when we had the chance to work with Kohl's I asked the girls if they wanted to do a fashion show of the Kohl's Disney Descendants Clothing and I got screams of "YES!" and so that is what we did 🙂
The Kohl's Disney Descendants Clothing line I actually really like, I like that there is a lost of flare, creativity and it is age appropriate for the girls. There are jackets, dresses, skirts and more that will make and Descendants movie fan be able to dress like their favorite character with the Kohl's Disney Descendants Clothing line.
Our school has a dress code where they must have a collard top, well the Kohl's Disney Descendants Clothing has a jacket with a collared top that makes it so McKenzie is fitting the dress code while being able to wear an outfit she enjoys 🙂 But even if you school doesn't have a dress code like ours the outfit she came up with when shopping on Kohls.com for her Kohl's Disney Descendants Clothing any little girl will love!
After the kids ordered their items it was time for them to model them 🙂 So we had a Kohl's Disney Descendants Clothing Fashion Show!
 Kohl's Disney Descendants Clothing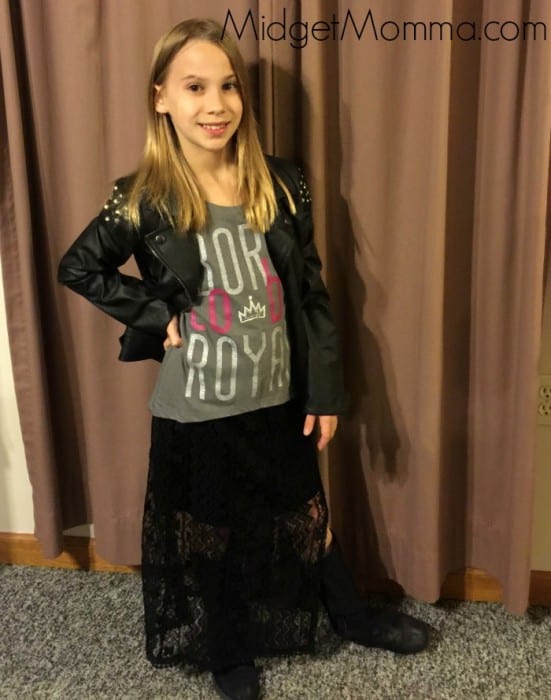 McKenzie paired the skirt, that is knee length but has a lace part over it that reaches the floor, with one of the many Kohl's Disney Descendants Clothing shirts that would match and the jacket to make her super cure outfit!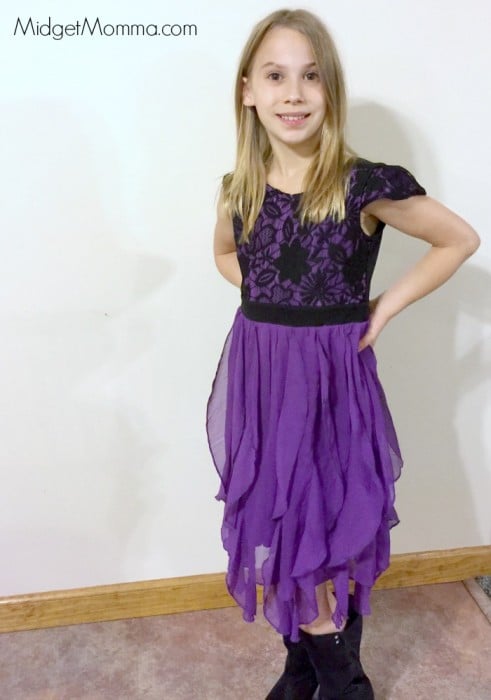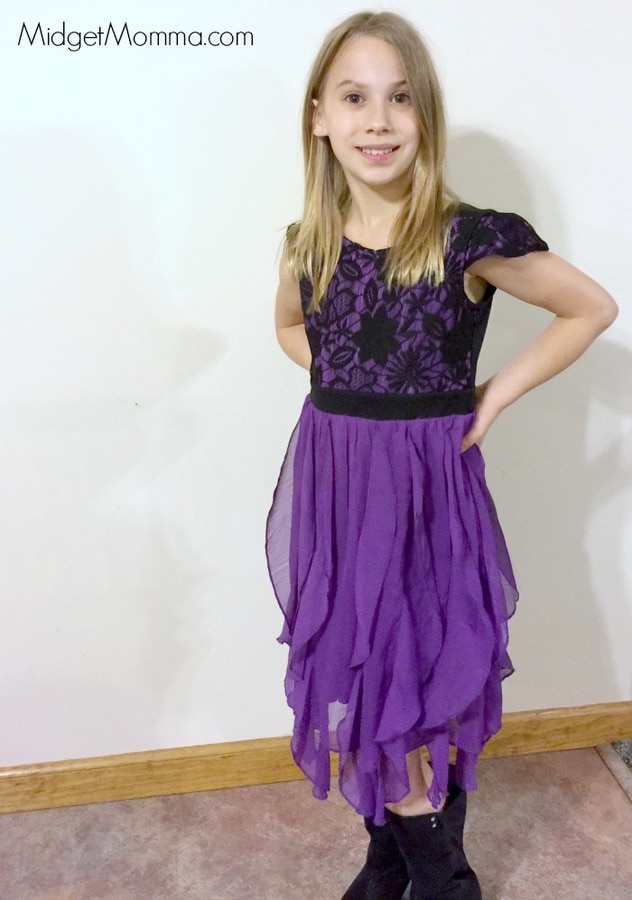 When I was first looking at the Kohl's Disney Descendants Clothing I saw this dress and LOVED it! I was hoping the whole time that McKenzie was shopping that she would pick this dress. I was a good mom and let her shop on her own with out my influence and when she picked this dress I did a happy dance inside my head. I love the tween look of it, I love how it has flare, style and still makes her look like a 10 year old but she feels like she is wearing the same style as the girls she looks up to (who are 12 and 17 so we sometimes run into issues with agreeing on what is ok for her to wear at her age) and we both LOVE it! Paired with a pair of black boots and the outfit is complete. During the colder months she can easily throw some legging on under it and the jacket from the Kohl's Disney Descendants Clothing and have a super cute outfit to wear!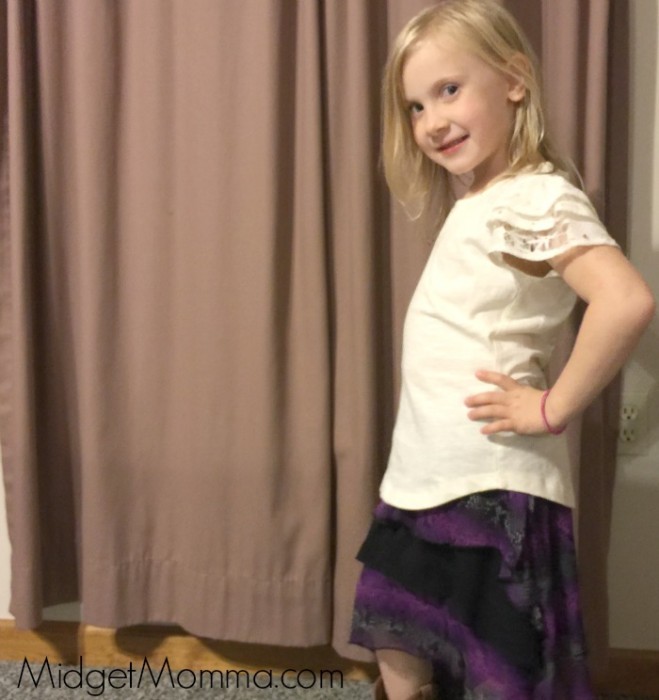 Alyssa is very girly, she wants to look girly all the time and while she can not wear this to school the way it is she can toss on her jean jacket that has a collar and be good to go for school. The skirt is flowing and there are also other shirts from the Kohl's Disney Descendants Clothing line that will match great with it! McKenzie helped her pick this one out, as we are now in the stage of "Big sister knows the best fashion" and I think it worked out perfectly.
You can purchase the Kohl's Disney Descendants Clothing online here or in your local Kohl's store.
More Disney Descendants Fun!
Descendants Under the Sea Short coming September 2018!
Secrets about the cast of Descendants Movies
If you love Disney, then make sure you check out the Free bed time messages from Disney Characters!
Disclaimer: We were provided a gift card to purchase items for our review. No compensation was received and all opinions are 100% my own.
Join the newsletter
Subscribe to get our latest content by email.
This post may contain affiliate links. Please read my disclosure policy here